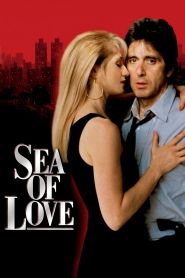 General Information
Glossary: S
Released Year: 1989
Runtime: 113 minutes
Genre: Crime, Drama, Mystery, Romance, Thriller
Directors: Harold Becker
Casts: Al Pacino, Samuel L. Jackson, Paul Calderon, Richard Jenkins, John Goodman, Michael Rooker, Ellen Barkin, Damien Leake, William Hickey, Joshua Nelson, Mark Phelan, John Spencer
IMDB: Sea of Love (1989)
Sponsored Links
Ratings
User Rating:
IMDB Rating:
6.8
Reviews
Chicago Tribune

-

With a wealth of talent at his disposal, director Becker spends too much of the film's flashier currencies-criminality and sex-and draws too little on nuance and personality. Even so, the movie winds up in the black.

Time Out London

-

Efficient enough as a thriller, but what makes this mandatory viewing is the return of Pacino. There are isolated scenes as good as anything he's done, and if the role is less demanding than Sonny in Dog Day Afternoon or Michael in The Godfather, his presence lifts the production in the way De Niro lifted Midnight Run.

Empire

-

Never revealing too much, Becker keeps us intrigued to the end, whilst Pacino and Barkin unexpectedly sizzle.

Chicago Sun-Times

-

Sea of Love tells an ingeniously constructed story that depends for its suspense on the same question posed by Jagged Edge and Fatal Attraction: What happens when you fall in love with a person who may be quite prepared to murder you?

TV Guide Magazine

-

A thriller featuring a mysterious femme fatale, an involving plot, and some nice offbeat twists, Sea of Love owes a good deal to Hitchcock, and to such recent efforts as Fatal Attraction and Jagged Edge, though it can claim plenty of originality as well.
Sea of Love (1989)
Seen-it-all New York detective Frank Keller is unsettled - he has done twenty years on the force and could retire, and he hasn't come to terms with his wife leaving him for a colleague. Joining up with an officer from another part of town to investigate a series of murders linked by the lonely hearts columns he finds he is getting seriously and possibly dangerously involved with Helen, one of the main suspects.