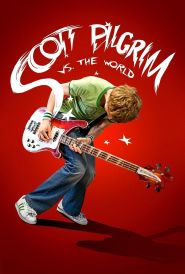 General Information
Glossary: S
Released Year: 2010
Runtime: 112 minutes
Genre: Action, Comedy, Fantasy, Romance
Directors: Edgar Wright
Casts: Anna Kendrick, Alison Pill, Chris Evans, Mary Elizabeth Winstead, Chantelle Chung, Jason Schwartzman, Aubrey Plaza, Bill Hader, Mark Webber, Michael Cera, Clifton Collins Jr., Jean Yoon, Marley Otto, Kieran Culkin, Ellen Wong, Johnny Simmons, Brie Larson, Brandon Routh, Satya Bhabha, Mae Whitman, Shota Saito, Keita Saito, Erik Knudsen, Nelson Franklin, Kristina Pesic, Abigail Chu, Ben Lewis, Ingrid Haas, Emily Kassie, John Patrick Amedori, Will Seatle Bowes, Thomas Jane, Celine Lepage, Mark Leroy, Kjartan Hewitt, Matt Watts, Christine Watson, Don McKellar, Jung-Yul Kim, Tennessee Thomas, Michael Lazarovitch, Joe Dinicol, Craig Stickland, Alice Alexander, Ryan Allen, Daniel Cristofori, Hope Larson, Jessica Martins, Tara Mason, Sydney Van Delft
IMDB: Scott Pilgrim vs. the World (2010)
Sponsored Links
Ratings
User Rating:
IMDB Rating:
7.5
Reviews
Village Voice

-

As he did in "Shaun of the Dead" and "Hot Fuzz", Wright immerses his heroes in pop culture's detritus and diversions, but doesn't drown them in it. You don't have to be dazzled or tickled by the movie, or get every joke, to be touched by it, too.

Boxoffice Magazine

-

Put simply: Scott Pilgrim is a blast! The total package is a wildly comic journey into the head of a true original. If you are under 25 you will find all of it really, really funny.

Salon

-

Highly entertaining, from minute to minute, and its semi-mythical portrayal of Torontonian life is entirely charming. If you can stand massive doses of cute and clever, it's a fine use for your summer-movie dollar (whether or not that dollar has a funny old lady on it).

Variety

-

With Michael Cera in the title role, twentysomethings and under will swiftly embrace this original romancer.

New York Magazine (Vulture)

-

The film is repetitive, top-heavy: Wright blows his wad too early. But a different lead might have kept you laughing and engaged.
Scott Pilgrim vs. the World (2010)
Scott Pilgrim is a 23 year old radical Canadian gamer and wannabe rockstar who falls in love with an American delivery girl, Ramona V. Flowers, and must defeat her seven "evil wannabe superheroes" to be able to date her.