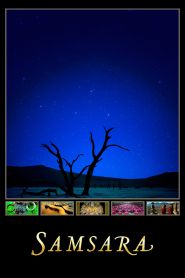 General Information
Glossary: S
Released Year: 2011
Runtime: 102 minutes
Genre: Documentary, Music
Directors: Ron Fricke
Writers: Ron Fricke, Mark Magidson
Casts: Marcos Luna, Putu Dinda Pratika, Puti Sri Candra Dewi, Ni Made Megahadi Pratiwi
IMDB: Samsara (2011)
Sponsored Links
Ratings
User Rating:
IMDB Rating:
8.5
Reviews
The Playlist

-

Simply put, Samsara tells the story of our world, but onscreen, it is so much more than that.

Boxoffice Magazine

-

A darker and more ambitious meditation on impermanence, Samsara relies on blunt force and unforgettable imagery, overcoming the hazy logic of Fricke's editing to earn your awe.

The New York Times

-

A spool of arresting, beautifully composed shots without narration or dialogue, Samsara is an invitation to watch closely and to suspend interpretation (another notion Sontag might have approved).

Salon

-

It demands to be experienced on its own terms or not at all, which creates a significant level of resistance in the contemporary media marketplace – but may also be a source of counterintuitive appeal.

Slant Magazine

-

Ron Fricke's film is a brightly hued bauble, fit for rapturous contemplation.
Samsara (2011)
Samsara is a word that describes the ever turning wheel of life. It is a concept both intimate and vast - the perfect subject for filmmakers Ron Fricke and Mark Magidson, whose previous collaborations include Chronos and Baraka, and who, in the last 20 years, have travelled to over 58 countries together in the pursuit of unique imagery. Samsara takes the form of a nonverbal, guided meditation that will transform viewers in countries around the world as they are swept along a journey of the soul. Through powerful images pristinely photographed in 70mm and a dynamic music score, the film illuminates the links between humanity and the rest of the nature, showing how our life cycle mirrors the rhythm of the planet.