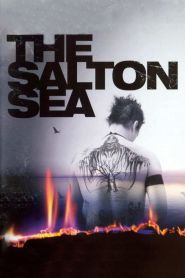 General Information
Glossary: T
Released Year: 2002
Runtime: 103 minutes
Genre: Crime, Drama, Mystery, Thriller
Directors: D.J. Caruso
Casts: Shirley Knight, Danny Trejo, Adam Goldberg, Anthony LaPaglia, Val Kilmer, Doug Hutchison, R. Lee Ermey, Meat Loaf, Peter Sarsgaard, Rex Linn, Charles Carroll, Vincent D'Onofrio, Luis Guzmán, Glenn Plummer, Mpho Koaho, BD Wong, Azura Skye, Jerry Gauny, Deborah Kara Unger, Shalom Harlow, Mike Randleman, Paula Scarpino, Josh Todd, Doc Duhame, Tom Fitzpatrick, Christian J. Fletcher, Val Lauren, Kenji Nakamura, Rene Rivera, Chandra West, Ricky Trammell, Justine Visone, Lee Holmes, Tanner Giles, Rachel Ezra, Chuck Kuespert
IMDB: The Salton Sea (2002)
Sponsored Links
Ratings
User Rating:
IMDB Rating:
7.2
Reviews
New Times (L.A.)

-

As a gallery of the grotesque, however, the cinematic equivalent of a Joe Coleman painting or Adam Parfrey publication, The Salton Sea is a blast.

Miami Herald

-

Strikes out toward freakishly original territory after all. Fans of the off-beat, your movie has arrived.

ReelViews

-

Unlike in many thrillers, the movie doesn't sandbag us with one last, cheap twist at the end. The Salton Sea contains its share of surprises, but none of them feels forced or artificial.

Austin Chronicle

-

For all its faults, is a solid piece of dirty work.

Boston Globe

-

A commercial Hollywood movie without pretensions. If there's no art here, it's still a good yarn - which is nothing to sneeze at these days.
The Salton Sea (2002)
After the murder of his beloved wife, a man in search of redemption is set adrift in a world where nothing is as it seems. On his journey, he befriends slacker Jimmy "The Finn", becomes involved in rescuing his neighbor Colette from her own demons, and gets entangled in a web of deceit full of unexpected twists and turns.