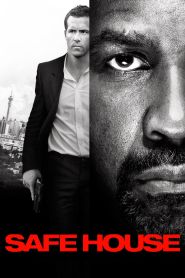 General Information
Glossary: S
Released Year: 2012
Runtime: 115 minutes
Genre: Action, Crime, Mystery, Thriller
Directors: Daniel Espinosa
Writers: David Guggenheim
Casts: Joel Kinnaman, Denzel Washington, Vera Farmiga, Sam Shepard, Liam Cunningham, Ryan Reynolds, Stephen Bishop, Tracie Thoms, Brendan Gleeson, Robert Patrick, Tanit Phoenix, Nora Arnezeder, Fares Fares, Jenna Dover, Stephen Rider, Daniel Fox, Rubén Blades, Sara Arrington, Kenneth Fok
IMDB: Safe House (2012) - IMDB
Sponsored Links
Ratings
User Rating:
IMDB Rating:
6.8
Reviews
Austin Chronicle

-

Director Espinosa stages the endless action with a tremendous flair that recalls John Woo's grittier moments, and cinematographer Oliver Wood, who shot Woo's finest Hollywood moment, "Face/Off," gives the whole violent show a downright brackish look that borders on the sublime.

Entertainment Weekly

-

Compared with a superior potboiler like "Salt," which messed with your brain in entertainingly far-fetched ways, Safe House is action-movie porridge gussied up into a less-clever-than-it-seems mystery.

Village Voice

-

[A] scattered but not totally disagreeable CIA conspiracy thriller.

Arizona Republic

-

Too often Washington is made to simply sit and observe -- which is not a fatal mistake because he is such a good actor that even then he's worth watching. Worse, though, at times he's gone altogether. That's not the only flaw in the fairly straightforward thriller, but it's the biggest.

The A.V. Club

-

Safe House does altogether too good a job establishing Washington as a seemingly unbeatable adversary: He brings so much gravity to his role that Reynolds seems hopelessly overmatched.
Safe House (2012)
A dangerous CIA renegade resurfaces after a decade on the run. When the safe house he's remanded to is attacked by mercenaries, a rookie operative escapes with him. Now, the unlikely allies must stay alive long enough to uncover who wants them dead.