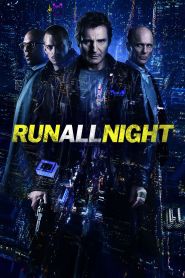 General Information
Glossary: R
Released Year: 2015
Runtime: 114 minutes
Genre: Action, Crime, Drama, Mystery, Thriller
Directors: Jaume Collet-Serra
Writers: Brad Ingelsby
Casts: Joel Kinnaman, Ed Harris, Common, Lois Smith, Liam Neeson, John Cenatiempo, Holt McCallany, Bruce McGill, Vincent D'Onofrio, Nick Nolte, Radivoje Bukvić, Beau Knapp, Patricia Kalember, Génesis Rodríguez, Daniel Stewart Sherman, Malcolm Goodwin, Boyd Holbrook, James Martinez, Tony Naumovski
IMDB: Run All Night (2015) - IMDB
Sponsored Links
Ratings
User Rating:
IMDB Rating:
6.6
Reviews
The Playlist

-

A film that double-underlines the fact that Collet-Serra knows exactly what to do with Neeson's on-screen persona in what is ultimately their most satisfying film yet.

TheWrap

-

There's not much new in this tale of grim men staring, and then shooting, each other down, but this cast and crew know how to spin this yarn with efficacy and economy.

Variety

-

Even when he's dealing with this boilerplate material, Collet-Serra brings an understated intensity and a subtle emotional pull to every scene, aided immeasurably by actors who invest their roles, big and small, with just the right degree of conviction.

The A.V. Club

-

Even though he never gets a grip on the over-complicated plot, the director hasn't lost his knack for those elemental qualities that make a good action flick.

Movie Nation

-

Run All Night doesn't re-imagine a worn out genre so much as drop a quart of Marvel Mystery Oil into the crankcase of that vintage V-8 for one last ride through the Mean Streets.
Run All Night (2015)
Brooklyn mobster and prolific hit man Jimmy Conlon has seen better days. Longtime best friend of a mob boss, Jimmy is haunted by the sins of his past—as well as a dogged police detective who's been one step behind Jimmy for 30 years. But when Jimmy's estranged son becomes a target, Jimmy must make a choice between the crime family he chose and the real family he abandoned long ago. Now, with nowhere safe to turn, Jimmy has just one night to figure out exactly where his loyalties lie and to see if he can finally make things right.