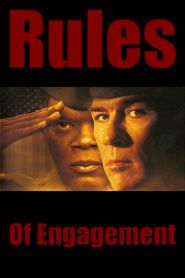 General Information
Glossary: R
Released Year: 2000
Runtime: 128 minutes
Genre: Drama, Thriller, War
Directors: William Friedkin
Casts: Philip Baker Hall, Samuel L. Jackson, Dale Dye, Ben Kingsley, Guy Pearce, Bruce Greenwood, Tommy Lee Jones, Mark Feuerstein, Anne Archer, Blair Underwood, Amidou
IMDB: Rules of Engagement (2000)
Sponsored Links
Ratings
User Rating:
IMDB Rating:
6.4
Reviews
L.A. Weekly

-

Worth it, though, for the conviction and ramrod-erect bearing that pros Jackson and Jones bring to their roles.

Chicago Sun-Times

-

Works splendidly as a courtroom thriller about military values as long as you don't expect it to seriously consider those values.

Chicago Reader

-

Friedkin does a superb job of serving up the well-appointed script by James Webb and Stephen Gaghan.

Los Angeles Times

-

Passable, moderately diverting dramatic entertainment.

New York Daily News

-

Sometimes, movies would work better if you couldn't see them.
Rules of Engagement (2000)
Part war movie, part courtroom thriller, this gripping drama finds a war hero put on trial for a rescue mission gone terribly wrong with only his doubtful friend and fellow marine to represent him.