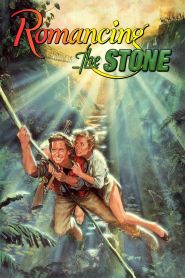 General Information
Glossary: R
Released Year: 1984
Runtime: 106 minutes
Genre: Action, Adventure, Comedy, Romance
Directors: Robert Zemeckis
Casts: Danny DeVito, Mary Ellen Trainor, Jeff Ramsey, Michael Douglas, Holland Taylor, William H. Burton Jr., Ron Silver, Kathleen Turner, Michael Cassidy, Kymberly Herrin, Vince Deadrick Sr., Paco Morayta, José Chávez, Ted White, Alfonso Aráu, Zack Norman, Manuel Ojeda, Jos Laniado, Eve Smith, Joe Nesnow, Evita Muñoz, Rodrigo Puebla, Camillo Garcia
IMDB: Romancing the Stone (1984)
Sponsored Links
Ratings
User Rating:
IMDB Rating:
6.9
Reviews
The Telegraph

-

A classic adventure story that brilliantly transcends its fairly average formula (buttoned-up city gal is softened by devil-may-care chancer while outwitting baddies in foreign lands) through a mixture of perfect casting, lashings of chemistry between the stars and a clever script.

Empire

-

Douglas and Turner make a great double act in this exuberantly directed adventure movie with a great start turn from the always enjoyable De Vito. Good stuff.

Chicago Sun-Times

-

A silly, high-spirited chase picture that takes us, as they say, from the canyons of Manhattan to the steaming jungles of South America. After all the Raiders rip-offs, it's fun to find an adventure film that deserves the comparison, that has the same spirit and sense of humor.

Christian Science Monitor

-

The filmmakers have devised some clever twists on the earlier films they recall - Raiders of the Lost Ark and Peter Pan among them - and they reserve a good share of the derring-do for their heroine, who's a refreshingly far cry from the helpless ladies-in-distress of old. Under the direction of Robert Zemeckis, the action goes limp and perfunctory at a few key moments, weakening the picture's wallop. But it still packs a healthy amount of self-deflating fun.

IGN

-

Michael Douglas and Kathleen Turner are wonderful together. They look great when they're in bed together and they look even better when they're fighting. Throw Danny DeVito into the mix and you've got a very enjoyable, watchable trio of heroes.
Romancing the Stone (1984)
Though she can spin wild tales of passionate romance, novelist Joan Wilder has no life of her own. Then one day adventure comes her way in the form of a mysterious package. It turns out that the parcel is the ransom she'll need to free her abducted sister, so Joan flies to South America to hand it over. But she gets on the wrong bus and winds up hopelessly stranded in the jungle.