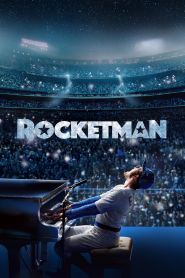 General Information
Glossary: R
Released Year: 2019
Runtime: 121 minutes
Genre: Drama, Music
Directors: Dexter Fletcher
Writers: Lee Hall
Casts: Jamie Bell, Bryce Dallas Howard, Stephen Graham, Ophelia Lovibond, Charlie Rowe, Jimmy Vee, Gemma Jones, Charles Armstrong, Steven Mackintosh, Leon Delroy Williams, Tate Donovan, Harriet Walter, Graham Fletcher-Cook, Dickon Tolson, Alexia Khadime, Tom Bennett, Taron Egerton, Richard Madden, Leigh Francis, Kit Connor, Barbara Drennan, Sharon D. Clarke, Leon Cooke, Matthew Illesley, Jason Pennycooke, Celinde Schoenmaker, Rachel Muldoon, Evan Walsh, Peter O'Hanlon, Ross Farrelly, Sharmina Harrower, Aston McAuley, Carl Spencer, David Doyle, Sian Crisp, Guillermo Bedward, Max Mackintosh, Micah Holmes, Diana Alexandra Pocol
IMDB: Rocketman (2019)
Sponsored Links
Ratings
User Rating:
IMDB Rating:
7.7
Reviews
The Telegraph

-

Not only does Egerton have Elton's look and mannerisms down to an uncanny degree, he also musters up enough of his subject's signature showmanship to give a performance that's joyously at peace with its own preposterousness.

Time Out

-

If there's one thing Rocketman does have in common with Bohemian Rhapsody, it's a commanding central performance.

Empire

-

A sequin-encrusted delight. On paper it reads like a by-the-book biopic; on screen it explodes with the kind of colour and energy that only Elton John himself could invoke.

TheWrap

-

It's all grand and fun and corny, a musical fantasy that reaches for the sky and gets there often enough to make it diverting but also frustrating.

The Hollywood Reporter

-

As a fantasia on the making of Elton John, Rocketman at the very least commits wholeheartedly to its flashy eccentricity, and for many, that will be more than fun enough.
Rocketman (2019)
The story of Elton John's life, from his years as a prodigy at the Royal Academy of Music through his influential and enduring musical partnership with Bernie Taupin.