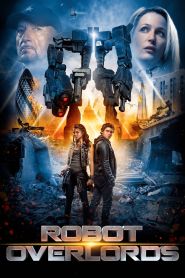 General Information
Glossary: R
Released Year: 2015
Runtime: 90 minutes
Genre: Action, Adventure, Sci-Fi
Directors: Jon Wright
Writers: Jon Wright, Mark Stay
Casts: Gillian Anderson, Ben Kingsley, Tamer Hassan, Callan McAuliffe, Geraldine James, Steven Mackintosh, Ella Hunt, Mark Asante, James Tarpey, David McSavage, Milo Parker, Roy Hudd, Michael Stuart, Justin Salinger, Lalor Roddy, Neil Brownlee
IMDB: Robot Overlords (2014)
Sponsored Links
Ratings
User Rating:
IMDB Rating:
4.6
Reviews
Total Film

-

Overlords has its share of clunky moments yet nonetheless proves, like Monsters before it, what can be achieved when you're short of cash but rich in imagination.

Empire

-

Less of a riot than Wright's previous Grabbers, Robot Overlords displays the same knowing intelligence, sense of fun and deep-rooted love for post-'70s genre film. Unlike its titular villains, it's sleek and it never malfunctions.

The Guardian

-

The film is never less than amiable, and rather more spirited and nonconformist than the Transformers movies.

The Hollywood Reporter

-

Amiable if predictable.

CineVue

-

The blend of influences does feel hackneyed, at certain junctures.
Robot Overlords (2014)
Earth has been conquered by robots from another galaxy and the human survivors must stay in their homes, or risk incineration.