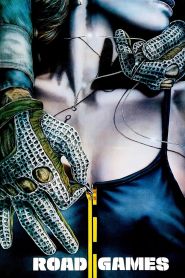 General Information
Glossary: R
Released Year: 1981
Runtime: 101 minutes
Genre: Horror, Mystery, Thriller
Directors: Richard Franklin
Casts: Alan Hopgood, Thaddeus Smith, Stacy Keach, Jamie Lee Curtis, Grant Page, Marion Edward, Steve Millichamp, John Murphy, Bill Stacey, Robert Thompson, Angelica La Bozzetta, Colin Vancao, Paul Harris, Rochelle Harris, Tony Bishop, Abbe Holmes, Carole-Ann Aylett, Ed Turley
IMDB: Road Games (1981)
Sponsored Links
Ratings
User Rating:
IMDB Rating:
6.7
Reviews
The Guardian

-

One terrific moment in which Pat sees what he believes are the killer's shoes underneath a toilet stall door and berates him while Pamela climbs into the green van outside is reminiscent of another scene that arrived years later and was also labelled "Hitchcockian" – the footsteps down the hallway confrontation in the Coen brothers' No Country For Old Men.

The A.V. Club

-

Stacy Keach engages in highway warfare in Road Games, an Australian thriller that drums up suspense from its assured plotting and direction, and generates humor from its star's charismatic lead performance...Taut all the way through to its well-staged finale, it's a superior genre import—and one that also features, in Quid's silent travel partner Boswell, the finest big-screen performance ever by a dingo.

Time Out

-

It's precisely its pretensions which make this a surprisingly agreeable cross of angst-ridden '70s road movie with Hitchcockian thriller.

Variety

-

Road Games is an above-average suspenser concerning an offbeat truck driver who winds up stalking a murderer. Stacy Keach's characterization of the amusing, poetry-spouting man is particularly endearing but the film builds all too effectively to a rather disappointing climax.

TV Guide Magazine

-

Suspenseful throughout most of its running time and exceedingly well shot, ROAD GAMES collapses at the end. The confrontation between Keach and the killer is a let-down. Although director Franklin has definitely studied his Hitchcock (he would go on to direct PSYCHO II), his film lacks the psychological depth of the master's work. Keach, however, is very engaging as the eccentric hero.
Road Games (1981)
A truck driver plays a cat-and-mouse game with a mysterious serial killer who uses a young female hitchhiker as bait to lure victims on a desolate Australian highway.