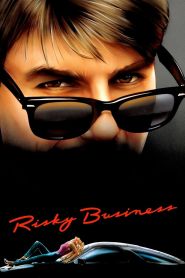 General Information
Glossary: R
Released Year: 1983
Runtime: 98 minutes
Genre: Comedy, Crime, Drama, Romance
Directors: Paul Brickman
Casts: Tom Cruise, Curtis Armstrong, Joe Pantoliano, Rebecca De Mornay, Sean Penn, Richard Masur, Shera Danese, Bronson Pinchot
IMDB: Risky Business (1983)
Sponsored Links
Ratings
User Rating:
IMDB Rating:
6.8
Reviews
Chicago Sun-Times

-

The very best thing about the movie is its dialogue. Paul Brickman, who wrote and directed, has an ear so good that he knows what to leave out.

Chicago Reader

-

Taking off from the format of a typical teenage sex comedy, Brickman deepens the characters and tightens the situations, filming them in a dark, dreamlike style full of sinuous camera movements and surrealistic insinuations. Brickman found a tone I hadn't encountered previously - one of haunting, lyrical satire.

TV Guide Magazine

-

Smart, stylish, and cynical about the values of its time, this movie aspires to be The Graduate for its generation and it comes pretty close.

The Globe and Mail (Toronto)

-

An adolescent-oriented farce so finely tuned it projects beyond its narrow intended audience - it's not only for adolescents, it's for anyone who remembers what adolescence was like. [05 Aug 1983]

Variety

-

Risky Business is like a promising first novel, with all the pros and cons that come with that territory.
Risky Business (1983)
Meet Joel Goodson, an industrious, college-bound 17-year-old and a responsible, trustworthy son. However, when his parents go away and leave him home alone in the wealthy Chicago suburbs with the Porsche at his disposal he quickly decides he has been good for too long and it is time to enjoy himself. After an unfortunate incident with the Porsche Joel must raise some cash, in a risky way.