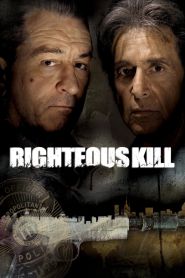 General Information
Glossary: R
Released Year: 2008
Runtime: 101 minutes
Genre: Crime, Drama, Mystery, Thriller
Directors: Jon Avnet
Writers: Russell Gewirtz
Casts: Al Pacino, Sterling K. Brown, John Leguizamo, Barry Primus, Ajay Naidu, Ajay Naidu, Carla Gugino, John Cenatiempo, Terry Serpico, Alan Blumenfeld, Brian Dennehy, Katarzyna Wolejnio, Robert De Niro, Melissa Leo, Saidah Arrika Ekulona, Donnie Wahlberg, Malachy McCourt, 50 Cent, Shirly Brener, Oleg Taktarov, Frank John Hughes, Merritt Wever, Fatso-Fasano, Liza Colón-Zayas, Trilby Glover, Rob Dyrdek, Mia Barron, Andre B. Blake, Judy Del Giudice, Bryan Chatlien, Tyrone Smith, Kimberly Dorsey, Kimberly Magness
IMDB: Righteous Kill (2008)
Sponsored Links
Ratings
User Rating:
IMDB Rating:
6.0
Reviews
Salon

-

Despite how easy it would be to write off Righteous Kill as one sorry excuse for lazy filmmaking, there is still something utterly mesmerizing in the palpable chemistry between the two leading men.

The Hollywood Reporter

-

An ordinary cop picture boosted by two charismatic superstars but hindered by its dearth of surprises.

Philadelphia Inquirer

-

A twisty, turny and ultimately silly thriller from "Inside Man's" Russell Gewirtz.

San Francisco Chronicle

-

A relatively harmless movie that becomes killing-a-mockingbird sinful for what it does to its leads.

NPR

-

Slack, morally ambiguous, decidedly sub-Dexter serial-killer-cop story that's been cooked up for them (De Niro/Pacino).
Righteous Kill (2008)
Two veteran New York City detectives work to identify the possible connection between a recent murder and a case they believe they solved years ago; is there a serial killer on the loose, and did they perhaps put the wrong person behind bars?