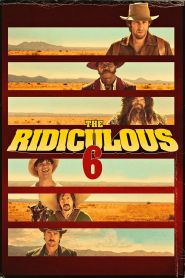 General Information
Glossary: T
Released Year: 2015
Runtime: 119 minutes
Genre: Comedy, Western
Directors: Frank Coraci
Writers: Adam Sandler, Tim Herlihy
Casts: Taylor Lautner, Julia Jones, Danny Trejo, Adam Sandler, Nick Swardson, David Spade, Norm Macdonald, Terry Crews, Harvey Keitel, Steve Buscemi, John Turturro, Dan Patrick, Kevin Grady, Blake Clark, Rob Schneider, Todd Bethke, Benny James, Michael Neal Powell, Nick Nolte, Steve Zahn, Luke Wilson, Chris Parnell, John Farley, Jon Lovitz, Vanilla Ice, David Manzanares, Will Forte, Jared Sandler, J. Nathan Simmons, Ricardo Andres, Martin Palmer, Katalina Parrish, Whitney Cummings, James E. Lane, Crystal Miller, Michael E. Stogner, Saginaw Grant, Alex Knight, Sarah Minnich, Jorge Garcia, Blake Shelton, Lavell Crawford, Meggie Maddock, Vanessa Torres, Catharine Pilafas, Richard Beal, Jetto Dorsainville, Derek Blakeney, Madison Fogle, Christopher W. Garcia, Kearon Lehman, Gonzalo Robles, Melissa-Lou Ellis, Henry Steckman, Paul Caster, Natasha Nazario, Corinne Fox, Kimo Keoke, Ruben Rivera Laguna, Denny O'Connor, Clint Obenchain, Eric E. Griego, Jameson Macmillan, Victoria L. Moya, Burton Ritchie, Rodger Larance, Cliff Gravel, Alan Humphrey
IMDB: The Ridiculous 6 (2015)
Sponsored Links
Ratings
User Rating:
IMDB Rating:
4.8
Reviews
The A.V. Club

-

While it's not consistently funny, and is as enamored as any other Sandler movie with making reference to its own limp running gags (including one about donkey shit), there is a certain inclusiveness that harkens back to his earlier work.

Chicago Tribune

-

Strange as it seems, if you choose to set aside the female roles in The Ridiculous 6 reducing women to cleavage or to mute humiliation, the movie is a long, long way from the worst Sandler movie ever made.

The Hollywood Reporter

-

No one emerges especially worse for wear because the entire production is wholly apathetic to everything from a compelling story to sharp comic timing.

Movie Nation

-

There's just nothing to this — nothing funny, at least. It's too long...has some bizarre violence...and is built around another inept-and-doesn't-care-that-he-is turn by Sandler.

Consequence of Sound

-

Whatever you think about Adam Sandler right now, The Ridiculous 6 won't change your mind. If you love him, you'll love this; if you hate him, you'll get plenty of ammo here.
The Ridiculous 6 (2015)
When his long-lost outlaw father returns, Tommy "White Knife" Stockburn goes on an adventure-filled journey across the Old West with his five brothers.