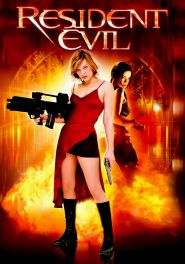 General Information
Glossary: R
Released Year: 2002
Runtime: 100 minutes
Genre: Action, Adventure, Horror, Sci-Fi, Thriller
Directors: Paul W.S. Anderson
Casts: Milla Jovovich, Eric Mabius, Michelle Rodriguez, Ryan McCluskey, Oscar Pearce, Indra Ové, Anna Bolt, Joseph May, Robert Tannion, Heike Makatsch, Jaymes Butler, Stephen Billington, Fiona Glascott, Colin Salmon, Martin Crewes, Pasquale Aleardi, Liz May Brice, Torsten Jerabek, Marc Logan-Black, James Purefoy, Michaela Dicker, Jason Isaacs
IMDB: Resident Evil (2002) - IMDB
Sponsored Links
Ratings
User Rating:
IMDB Rating:
6.7
Reviews
Baltimore Sun

-

About as good as the genre gets.

Entertainment Weekly

-

A splattery futuristic zombie thriller, designed as a jolt-a-minute freakout for young audiences who were numbed into submission long ago.

Austin Chronicle

-

Is this the future of horror or just some bizarre fluke? Don't ask me, I'm having too much fun to care.

USA Today

-

Evil's one strong presence is lead Milla Jovovich -- and not because the script gives her supercop/soldier anything interesting to say.

TV Guide Magazine

-

Handsome and sometimes creepy, but formulaic in the extreme.
Resident Evil (2002)
When a virus leaks from a top-secret facility, turning all resident researchers into ravenous zombies and their lab animals into mutated hounds from hell, the government sends in an elite military task force to contain the outbreak. Alice and Rain are charged with leading the mission. But they only have three hours before the pathogen becomes airborne and infects the world.