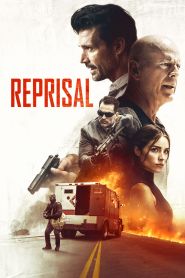 General Information
Glossary: R
Released Year: 2018
Runtime: 89 minutes
Genre: Action, Crime, Thriller
Directors: Brian A Miller
Writers: Bryce Hammons
Casts: Frank Grillo, Bruce Willis, Johnathon Schaech, Wass Stevens, Ken Strunk, Olivia Culpo, Tyler Jon Olson, Colin Egglesfield, Cameron Brexler, Tamara Belous, Geoff Reeves, Christopher Rob Bowen, John Dauer, Shea Buckner, Nicolas Petron, Natali Yura, Rajiim A. Gross
IMDB: Reprisal (2018)
Sponsored Links
Ratings
User Rating:
IMDB Rating:
4.2
Reviews
Variety

-

Reprisal is not a very good movie, but it leaves you with tantalizing hints that some people involved with it are capable of doing something much better.

Movie Nation

-

There's virtually nothing to distinguish Reprisal from a thousand other cop-vs-robber B pictures, except for the violence.

The Hollywood Reporter

-

Grillo uncharacteristically displays no charisma, although considering the material he's working with, it's not surprising that he looks like he simply gave up. Speaking of giving up, Willis, who provides a few sparks to the otherwise lamentable Death Wish remake, here reverts to his by now usual phoning it in.

Los Angeles Times

-

All in all, just another boring genre exercise.

The New York Times

-

Even those inclined to sympathize with that premise politically may feel insulted by the plot hole-a-palooza offered here to support it.
Reprisal (2018)
Jacob, a bank manager haunted by a violent heist that took the life of a coworker, teams up with his ex-cop neighbor, James, to bring down the assailant. While the two men work together to figure out the thief's next move, Gabriel, the highly-trained criminal, is one step ahead. When Gabriel kidnaps Jacob's wife and daughter, Jacob barrels down a path of bloodshed that initiates an explosive counterattack and brings all three men to the breaking point.