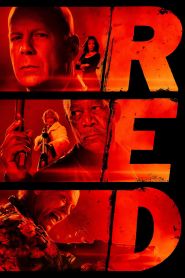 General Information
Glossary: R
Released Year: 2010
Runtime: 111 minutes
Genre: Action, Comedy, Thriller
Directors: Robert Schwentke
Writers: Erich Hoeber, Jon Hoeber
Casts: John Malkovich, Justine Wachsberger, Bruce Willis, Morgan Freeman, James Remar, Chris Owens, Brian Cox, Joe Chrest, Karl Urban, Jonathan Walker, Helen Mirren, Lawrence Turner, Laura de Carteret, Julian McMahon, Mary-Louise Parker, Richard Dreyfuss, Ernest Borgnine, Michelle Nolden, John Stead, Emily Kuroda, Heidi von Palleske, Desiree Beausoleil, Rebecca Pidgeon, Jaqueline Fleming, Randy Wade Kelley, Jason Giuliano, Alec Rayme, Tara Yelland, Tony De Santis
IMDB: Red (2010)
Sponsored Links
Ratings
User Rating:
IMDB Rating:
7.1
Reviews
The Hollywood Reporter

-

Even the more cartoonish performances, like John Malkovich's acid-damaged paranoiac, fit the movie's vision of the vanished, wild-and-woolly heyday of spycraft.

Arizona Republic

-

Red isn't a great movie, but it's great fun, and if that sounds like damning with faint praise, you take things too seriously.

ReelViews

-

It's a lot of fun and, because of the high quality of the cast, there's no need to feel guilty about praising such an inherently silly motion picture.

Movieline

-

The result is like a sugar rush after a visit to the vintage candy store.

Variety

-

Only a curmudgeon could entirely resist the laid-back charms of Red, an amusing, light-footed caper about a team of aging CIA veterans rudely forced out of retirement.
Red (2010)
When his peaceful life is threatened by a high-tech assassin, former black-ops agent, Frank Moses reassembles his old team in a last ditch effort to survive and uncover his assailants.