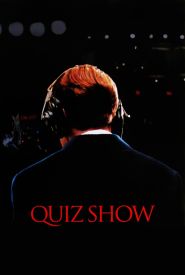 General Information
Glossary: Q
Released Year: 1994
Runtime: 133 minutes
Genre: Drama, History
Directors: Robert Redford
Casts: Bruce Altman, David Paymer, Hank Azaria, Christopher McDonald, Ben Shenkman, Ralph Fiennes, Martin Scorsese, Rob Morrow, Michael Mantell, John Turturro, Jack Gilpin, Ernie Sabella, William Fichtner, Ethan Hawke, Illeana Douglas, Stephen Pearlman, Barry Levinson, Harriet Sansom Harris, Debra Monk, Anthony Fusco, Allan Rich, Mira Sorvino, Timothy Busfield, Joseph Blaire, Griffin Dunne, Calista Flockhart, Mario Cantone, Paul Scofield, Byron Jennings, Jerry Grayson, George Martin, Elizabeth Wilson, Matt Keeslar, Paul Guilfoyle, Grace Phillips, Johann Carlo, Timothy Britten Parker, Jerry Griffin
IMDB: Quiz Show (1994)
Sponsored Links
Ratings
User Rating:
IMDB Rating:
7.5
Reviews
San Francisco Chronicle

-

Robert Redford's exceptionally handsome and provocative Quiz Show manages a trick that few films even dare try -- to take a hard look at personal and public moral issues and still provide dazzling entertainment.

The New York Times

-

A supremely elegant and thoughtful parable. [14 September 1994, p. C11]

Variety

-

Robert Redford's handsome, smartly constructed new film stands likely to capture the imagination of the educated, culturally inclined public.

Rolling Stone

-

Redford blows the dust off a 35-year-old scandal about rigged TV quiz shows and makes it snap with up-to-the-minute relevance.

Chicago Sun-Times

-

Robert Redford has directed Quiz Show as entertainment, history, and challenge.
Quiz Show (1994)
Quiz Show is a 1994 American historical drama film which tells the true story of the Twenty One quiz show scandal of the 1950s.