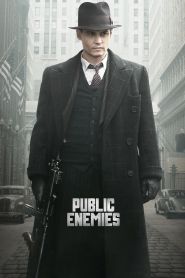 General Information
Glossary: P
Released Year: 2009
Runtime: 140 minutes
Genre: Biography, Crime, Drama, History
Directors: Michael Mann
Casts: Carey Mulligan, Giovanni Ribisi, Marion Cotillard, Rick Uecker, Rebecca Spence, Johnny Depp, David Wenham, Channing Tatum, Christian Bale, Stephen Graham, Stephen Dorff, Stephen Lang, Domenick Lombardozzi, Christian Stolte, Madison Dirks, Leelee Sobieski, John Ortiz, Jason Clarke, Shawn Hatosy, James Russo, Casey Siemaszko, John Judd, Robyn LeAnn Scott, Billy Crudup, Emilie de Ravin, Kurt Naebig, Michael Sassone, Adam Mucci, Michael Vieau, John Kishline, Wesley Walker, John Scherp, Elena Kenney, William Nero Jr., Don Frye, Branka Katić, Rory Cochrane, John Michael Bolger, Peter DeFaria, Jonathan Macchi, Jeff Shannon, Bill Camp, Richard Short, Randy Ryan , John Hoogenakker, Diana Krall, Shanyn Leigh, Lili Taylor, Stephen Spencer
IMDB: Public Enemies (2009)
Sponsored Links
Ratings
User Rating:
IMDB Rating:
7.0
Reviews
Empire

-

Intelligent and challenging: Mann's crime epic could take two viewings to fully absorb, but it's worth every devoted minute.

Chicago Sun-Times

-

This is a very good film, with Depp and Bale performances of brutal clarity. I'm trying to understand why it is not quite a great film. I think it may be because it deprives me of some stubborn need for closure.

Miami Herald

-

Michael Mann's extraordinary Public Enemies is an unusual sort of gangster picture, a near-impressionistic recreation of the last year in the life of one of American history's most notorious bank robbers.

Rolling Stone

-

Public Enemies comes at you like Dillinger did: all of a sudden. It's movie dynamite.

Chicago Tribune

-

It's a fascinating bundle of contradictions -- authentic in a million details, deeply romanticized in others. Cool, calm and collected, this is more love story than gangster picture.
Public Enemies (2009)
Depression-era bank robber John Dillinger's charm and audacity endear him to much of America's downtrodden public, but he's also a thorn in the side of J. Edgar Hoover and the fledgling FBI. Desperate to capture the elusive outlaw, Hoover makes Dillinger his first Public Enemy Number One and assigns his top agent, Melvin Purvis, the task of bringing him in dead or alive.