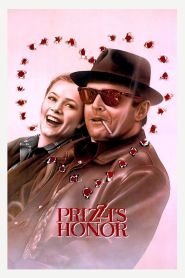 General Information
Glossary: P
Released Year: 1985
Runtime: 124 minutes
Genre: Comedy, Crime, Drama, Romance
Directors: John Huston
Casts: Anjelica Huston, Lawrence Tierney, Robert Loggia, Jack Nicholson, CCH Pounder, Stanley Tucci, Erasmus C. Alfano, Garry Pastore, Raymond Serra, Joseph Ruskin, Tom Signorelli, John Randolph, William Hickey, Michael Lombard, Nick Vallelonga, Ray Iannicelli, Kathleen Turner, Vic Polizos, Marlene D. Williams, Dominic Barto, Sully Boyar, Dick O'Neill, Michael Fischetti, Skip O'Brien, Lee Richardson, Tomasino Baratta, Ann Selepegno, Antonia Vasquez, John Calvani, Murray Staff, Seth Allen, Teddi Siddall, Themi Sapountzakis, Debra Kelly, Scott Campbell, Beth Raines, Michael Sabin, Michael Tuck, Kenneth Cervi, Joe Kopmar, Peter D'Arcy, Thomas Lomanco, Bill Brecht, Enzo Citarelli, John P. Codiglia, Henry Fehren, Alexandra Ivanoff, Theodore Theoharous, Jonathan L. Arland, Rueben Gonzales, Luis Accinelli, Danielle Frederick
IMDB: Prizzi's Honor (1985)
Sponsored Links
Ratings
User Rating:
IMDB Rating:
6.7
Reviews
Los Angeles Times

-

To say the film is the treasure of the year would be to bad-mouth it in this disastrous season. Prizzi's Honor would be the vastly original centerpiece of a great year. It's a rich, dense character comedy in which Huston, working from a screenplay Richard Condon and Janet Roach adapted from Condon's novel, cocks a playful but unblinking eye at love, family loyalty and the togetherness of a happy marriage--Sicilian style.

The Guardian

-

Probably the funniest mobster movie ever...A sublime meld of black satire, high camp and happy farce.

Chicago Tribune

-

This film would be a winner any time of the year. It`s a classic piece of moviemaking that I plan on seeing again very soon.

TV Guide Magazine

-

This was the penultimate film from the ailing great director. It is also one of his best.

Chicago Sun-Times

-

This is the most bizarre comedy in many a month, a movie so dark, so cynical and so funny that perhaps only Jack Nicholson and Kathleen Turner could have kept straight faces during the love scenes. They do.
Prizzi's Honor (1985)
A professional hit man and hit woman fall in love, only to discover that they have each been hired to kill the other.