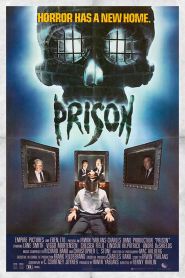 General Information
Glossary: P
Released Year: 1987
Runtime: 102 minutes
Genre: Crime, Drama, Horror, Thriller
Directors: Renny Harlin
Casts: Tom Lister Jr., Tom Everett, Viggo Mortensen, Chelsea Field, Mickey Yablans, Lane Smith, Hal Landon Jr., Ivan Kane, Larry "Flash" Jenkins, Arlen Dean Snyder, Lincoln Kilpatrick, André De Shields, Stephen E. Little, Matt Kanen, Rod Lockman
IMDB: Prison (1987)
Sponsored Links
Ratings
User Rating:
IMDB Rating:
5.8
Reviews
Washington Post

-

A thoroughly credible hybrid of the prison film and the supernatural, it has plenty of shocks, of course, but also an actual story. What makes it work here is the skill and energy of a young director, Renny Harlin, and a surprisingly decent ensemble.

Time Out London

-

With an assured visual style, Harlin stokes up the temperature to near-riot conditions before exploding the screen with electrifying special effects mayhem - floors glow red hot, barbed wire is vivified, the very pipes take on murderous life. A tough, entertaining, intelligent hybrid of hard-ass prison drama and horror-shocker exploiter.

Variety

-

Starring as the prison in this rough penal pic with its special effects-laden horror story is the 87-year-old Wyoming State Penitentiary, which has attracted tourists rather than cons since 1981. The structure takes on all the menace of the house in Amityville Horror or hotel in The Shining.

TV Guide Magazine

-

An intriguing genre hybrid boasting a stronger than usual cast and excellent, atmospheric direction from Finnish newcomer Renny Harlin, Prison is an impressive piece of low-budget genre work.

Los Angeles Times

-

Technically, and on a performance level, Prison earns time off for good behavior. However, the story feels as if it was conceived by someone working with an expired artistic license. [24 May 1988, p.8]
Prison (1987)
After Charles Forsyth was sent to the electric chair for a crime he didn't commit, he forever haunts the prison where he was executed. Flash forward several years when the prison is reopened, under the control of its new warden Eaton Sharpe, a former security guard who framed Charlie. When prisoners are ordered to break down the wall to the execution room, they unknowingly release the angry spirit of Charles Forsyth, a powerful being distributing his murderous rage to all, leading up to the Warden himself.