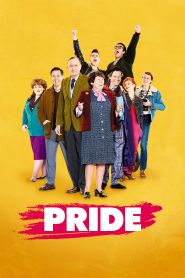 General Information
Glossary: P
Released Year: 2014
Runtime: 119 minutes
Genre: Biography, Comedy, Drama, History, Romance
Directors: Matthew Warchus
Writers: Stephen Beresford
Casts: Liz White, Dominic West, Andrew Scott, Freddie Fox, Bill Nighy, Paddy Considine, George MacKay, Imelda Staunton, Jim McManus, Jessie Cave, Joseph Gilgun, Russell Tovey, Monica Dolan, Shane Salter, Michael Vardian, Ben Schnetzer, Joshua Hill, Karina Fernandez, Jessica Gunning, Faye Marsay, Rhodri Meilir, Chris Overton, Matthew Tennyson, Jordan Metcalfe, Larissa Jones
IMDB: Pride (2014) - IMDB
Sponsored Links
Ratings
User Rating:
IMDB Rating:
7.8
Reviews
Time Out London

-

It's a joyous film, full of love and warmth but unafraid to admit that with sticking out your neck comes struggle and sorrow. Truly lovely.

The New Yorker

-

Pride is brilliantly entertaining just as it is, so I trust that no one connected with the film will be insulted if I say that, despite the existence of shows with similarly stirring themes, like "Billy Elliot" and "Kinky Boots," the story would make a terrific musical.

Rolling Stone

-

Pride naively thinks it can change the world with a single movie. Talk about fighting spirit. I couldn't have liked it more.

Observer

-

A joyous, well-researched and liberating film in the feel-good spirit of "Billy Elliot," "The Full Monty" and "Calendar Girls."

Empire

-

A clear winner that makes you laugh, cry, and generally want to party and parade like it's 1984.
Pride (2014)
Comedy-drama based on a true story set in the summer of 1984 – when Margaret Thatcher is in power and the National Union of Mineworkers (NUM) is on strike. At the Gay Pride March in London, a group of gay and lesbian activists decides to raise money to support the families of the striking miners. But there is a problem - the union seems embarrassed to receive their support. However the activists are not deterred. They decide to ignore the union and go direct to the miners. They identify a mining village of Onllwyn, in the Dulais Valley in Wales, and later set off in a mini bus to make their donation in person. And so begins the extraordinary story of two seemingly alien communities who form a surprising and ultimately triumphant partnership.