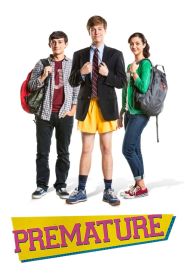 General Information
Glossary: P
Released Year: 2014
Runtime: 93 minutes
Genre: Comedy, Fantasy
Directors: Dan Beers
Casts: Brian Huskey, Alan Tudyk, Craig Roberts, Kate Kneeland, Cara Mantella, Katie Findlay, Zoe Myers, John Karna, Carlson Young, Elon Gold, Christen Orr, Katie Adkins
IMDB: Premature (2014) - IMDB
Sponsored Links
Ratings
User Rating:
IMDB Rating:
5.8
Reviews
IndieWire

-

Beers' screenplay manages to sustain the outrageous scenario with a string of jokes that don't take the underlying goofiness for granted. Instead, the writer-director builds on its crass foundations with constant inspired one-liners.

The Hollywood Reporter

-

The script, by Beers and Mathew Harawitz, offers a little less invention in this endless-repeat scenario than it might have.

The New York Times

-

Premature bops along with a wiseacre self-awareness and a nimble cast... But Mr. Beers and his fellow screenwriter, Mathew Harawitz, also have a numbing Seth MacFarlane-esque weakness for purely attention-getting crudeness and unfunny stereotypes.

The A.V. Club

-

Watching Bill Murray go through the same scenario over and over is one thing. Experiencing the same feeble dick jokes over and over is another.

The Dissolve

-

Premature isn't nearly as inventive and witty as Groundhog Day or Edge Of Tomorrow about finding fresh angles on repeating events, and it overestimates how much the audience might care about the self-improvement of a bland, clueless douchebag.
Premature (2014)
On the most important day of his young life, a high school senior is forced to relive his failed attempt at losing his virginity over and over again, until he gets it right.