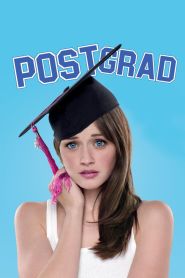 General Information
Glossary: P
Released Year: 2009
Runtime: 89 minutes
Genre: Comedy, Drama
Directors: Vicky Jenson
Writers: Kelly Fremon Craig
Casts: J.K. Simmons, Rodrigo Santoro, Jane Lynch, Craig Robinson, Alexis Bledel, Andrew Daly, Reid Harper, Catherine Reitman, Michael Keaton, Fred Armisen, Angel Oquendo, Anna Khaja, Vanessa Branch, Jeanie Hackett, Melissa Tang, Zach Gilford, Dempsey Pappion, Mary Anne McGarry, Carol Burnett, Parisa Fitz-Henley, Patrick O'Connor, Bobby Coleman, Alexandra Holden, Kirk Fox, Robert Arce, Oscar Dillon, Shirley Jordan, Michael Grant Terry, Brandon Phillips, Desean Terry, Gino Woulard
IMDB: Post Grad (2009)
Sponsored Links
Ratings
User Rating:
IMDB Rating:
5.3
Reviews
Chicago Sun-Times

-

It's a screwball comedy. It's also, I have to say, a feel-good movie that made me smile a lot.

St. Louis Post-Dispatch

-

After watching Post Grad, you may wonder whether Hollywood will ever stop making generic comedies with zero tolerance for originality.

Village Voice

-

In 2009. Vicky Jenson's live-action debut is as cartoonish as her work on "Shrek," and that's OK for the comic bits. The rest seems like a remarkably cynical cross-breed—for all demographics, but, ultimately, for none.

The Hollywood Reporter

-

An innocuous -- to the point of blandness -- look at the "hardships" of a recent college grad.

Variety

-

As fiction characters go, Ryden seems as dull as they come, making it hard to muster much sympathy for her plight.
Post Grad (2009)
Ryden Malby has a master plan. Graduate college, get a great job, hang out with her best friend and find the perfect guy. But her plan spins hilariously out of control when she's forced to move back home with her eccentric family.