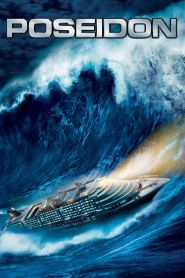 General Information
Glossary: P
Released Year: 2006
Runtime: 99 minutes
Genre: Action, Adventure, Drama, Thriller
Directors: Wolfgang Petersen
Casts: Mía Maestro, Josh Lucas, Kurt Russell, Kirk B.R. Woller, Mike Vogel, Jimmy Bennett, Emmy Rossum, Fergie, Andre Braugher, Richard Dreyfuss, Freddy Rodríguez, Jacinda Barrett, Kevin Dillon, Gabriel Jarret
IMDB: Poseidon (2006)
Sponsored Links
Ratings
User Rating:
IMDB Rating:
5.6
Reviews
Entertainment Weekly

-

It's a buoyant, old-wave disaster pic for a generation of well-conditioned thrill seekers charmed by the revelation that Richard Dreyfuss really is the Red Buttons of our day.

Rolling Stone

-

You'll end up entertained if you forgive the cliches and let Petersen grab you with the visuals.

The Hollywood Reporter

-

Among the willing cast, only Jacinda Barrett and topliners Josh Lucas, Kurt Russell and Richard Dreyfuss manage, just barely, to suggest a third dimension to the script's cursory character sketches. But that won't matter to audiences craving a disaster thrill ride.

Variety

-

Thanks to its simple construction, Wolfgang Petersen's large-scale liner moves reasonably well, though anyone with the faintest memory of its 1972 predecessor will wonder where most of the plot went.

ReelViews

-

Poseidon is devoid of anything that might conjure up memories of the Winslet/DiCaprio coupling. Its straightforward action/adventure approach is both a strength and a weakness.
Poseidon (2006)
A packed cruise ship traveling the Atlantic is hit and overturned by a massive wave, compelling the passengers to begin a dramatic fight for their lives.