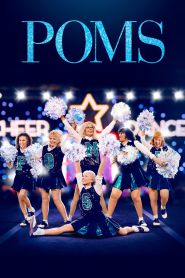 General Information
Glossary: P
Released Year: 2019
Runtime: 91 minutes
Genre: Comedy, Drama
Directors: Zara Hayes
Writers: Zara Hayes, Shane Atkinson
Casts: Diane Keaton, Afemo Omilami, Sharon Blackwood, Charlie Tahan, Celia Weston, Bruce McGill, Patricia French, Frank Hoyt Taylor, Carol Sutton, Phyllis Somerville, Pam Grier, Karen Beyer, Alisha Boe, Jacki Weaver, Rhea Perlman, David Maldonado, Dorothy Steel, Alexandra Ficken, Ginny MacColl, Jessica Roth
IMDB: Poms (2019)
Sponsored Links
Ratings
User Rating:
IMDB Rating:
5.7
Reviews
Original-Cin

-

A dynamite ensemble cast and a truckload of heart keep the sentimental new comedy POMS from crumbling beneath multiple well-thumbed clichés including (but not limited to) plucky underdogs can triumph, friends are really important and life is short so live it fully.

The Globe and Mail (Toronto)

-

It makes no sense that this fun, feel-good movie about senior citizen cheerleaders should waste so much precious screen time on miserly Keaton hacking up her Metamucil or whatever. If you're going to make a movie about elderly cheerleaders, bring some brio and physicality to it.

TheWrap

-

Poms is strongest when basking in the infectious enthusiasm of its cast. Keaton and Weaver could have easily phoned in their performances, but they do look like they're having fun together with their crew of Golden Girls.

Screen International

-

The feature's heart is in the right place, especially in advocating that age shouldn't be a barrier. But Poms is a by-the-numbers feature which couples its empowering message with routine gags and muddled conflict.

The Associated Press

-

Poms really wants to be a sweet movie with a sweet message, but it's hard to buy into it when none of the squad gets significant backstories, inner lives or even enough dialogue to give them distinct personalities. They're just there to be punching bags for other characters and the movie.
Poms (2019)
A woman moves into a retirement community and starts a cheerleading squad with her fellow residents.