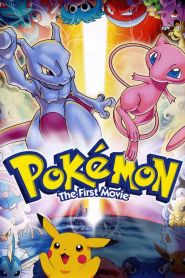 General Information
Glossary: P
Released Year: 1998
Runtime: 75 minutes
Genre: Action, Adventure, Animation, Family, Sci-Fi
Directors: Michael Haigney, Kunihiko Yuyama
Casts: Rica Matsumoto, Mayumi Iizuka, Yuji Ueda, Ikue Otani, Megumi Hayashibara, Shin-ichiro Miki, Inuko Inuyama, Masachika Ichimura, Satomi Kōrogi, Kouichi Yamadera, Tōru Furuya, Raymond Johnson, Ayako Shiraishi, Chinami Nishimura, Sachiko Kobayashi, Yōsuke Akimoto, Hirotaka Suzuoki, Unsho Ishizuka, Aiko Sato, Wataru Takagi
IMDB: Pokemon The First Movie – Mewtwo Strikes Back (1998)
Sponsored Links
Ratings
User Rating:
IMDB Rating:
6.0
Reviews
Chicago Reader

-

By the time the fighting between clones and their originals turned to fraternal bonding, I was quite moved, even blissed out.

San Francisco Examiner

-

The film is obviously a long-form episode of a show better digested in 22-minute segments.

Chicago Sun-Times

-

It's just a sound-and-light show, linked to the marketing push for Pokemon in general.

USA Today

-

Plays a little like a pacifistic variation on Bruce Lee's "Enter the Dragon."

New York Post

-

Strictly a kids' movie, but parents may be relieved to sit back and enjoy the fact that for two full hours, they won't have to hear the kids asking them to buy any more Pokemon trading cards.
Pokemon The First Movie – Mewtwo Strikes Back (1998)
The adventure explodes into action with the debut of Mewtwo, a bio-engineered Pokemon created from the DNA of Mew, the rarest of all Pokemon. Determined to prove its superiority, Mewtwo lures Ash, Pikachu and others into a Pokemon match like none before. Mewtwo vs. Mew. Super-clones vs. Pokemon. It's the ultimate showdown ... with the very future of the world at stake!