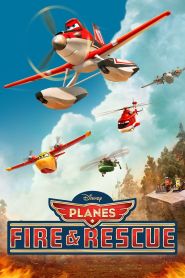 General Information
Glossary: P
Released Year: 2014
Runtime: 83 minutes
Genre: Adventure, Animation, Comedy, Family
Directors: Roberts Gannaway
Casts: Julie Bowen, John Michael Higgins, Fred Tatasciore, Fred Willard, Ed Harris, Caroline Aaron, Danny Mann, Dane Cook, Dale Dye, John Ratzenberger, Debi Derryberry, Brad Garrett, Patrick Warburton, Steve Schirripa, Cedric the Entertainer, Kari Wahlgren, Curtis Armstrong, Brent Musburger, Bryan Callen, Jerry Stiller, Regina King, Wes Studi, Barry Corbin, Hal Holbrook, Anne Meara, Masasa Moyo, Teri Hatcher, Stacy Keach, Matt Jones, Rene Auberjonois, Rene Auberjonois, Roberts Gannaway, Corri English, Kate Micucci, Danny Pardo, Erik Estrada, Ferrell Barron, Brad Paisley
IMDB: Planes: Fire & Rescue (2014)
Sponsored Links
Ratings
User Rating:
IMDB Rating:
6.0
Reviews
The Playlist

-

Planes: Fire and Rescue serves as a dramatic improvement over the original, introducing thrilling action sequences backed by actual stakes and an unexpected emotional dimension, all on top of upgraded animation and a greater emphasis on character.

Entertainment Weekly

-

Despite somewhat of a direct-to-DVD plot, the perilous and elaborate rescue scenes are certainly big-screen-worthy. Canny references to '70s television and some genuinely funny moments will give grown-ups enough fuel to cross the finish line.

Variety

-

Planes: Fire & Rescue is a slight but improbably successful example of a movie that, despite its profusion of chrome and steel, somehow succeeds in touching something human.

TheWrap

-

This movie hardly rates as first-class animation, but it gets in, gets the job done, and moves on both swiftly and well.

The Hollywood Reporter

-

Beautiful to look at, this is nothing more than a Little Engine That Could story refitted to accommodate aerial action and therefore unlikely to engage the active interest of anyone above the age of about 8, or 10 at the most.
Planes: Fire & Rescue (2014)
When world-famous air racer Dusty learns that his engine is damaged and he may never race again, he must shift gears and is launched into the world of aerial firefighting. Dusty joins forces with veteran fire and rescue helicopter Blade Ranger and his team, a bunch of all-terrain vehicles known as The Smokejumpers. Together, the fearless team battles a massive wildfire, and Dusty learns what it takes to become a true hero.