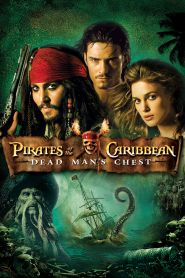 General Information
Glossary: P
Released Year: 2006
Runtime: 151 minutes
Genre: Action, Adventure, Fantasy
Directors: Gore Verbinski
Casts: Mackenzie Crook, Johnny Depp, Martin Klebba, David Schofield, David Bailie, Donald Dowd, Orlando Bloom, Ho-Kwan Tse, Geoffrey Rush, Max Baker, Jonathan Pryce, Bill Nighy, Tom Hollander, Naomie Harris, Kevin McNally, Reggie Lee, Peter Donald Badalamenti II, Stellan Skarsgård, Alex Norton, Keira Knightley, Clive Ashborn, Christopher Adamson, Jack Davenport, Lee Arenberg, Christopher S. Capp, Lauren Maher, Vanessa Branch, Luke de Woolfson, Dermot Keaney, Andy Beckwith, Jonathan Linsley, John Boswall, Steve Speirs, Jonathan Kite
IMDB: Pirates of the Caribbean Dead Man's Chest (2006)
Sponsored Links
Ratings
User Rating:
IMDB Rating:
7.3
Reviews
Rolling Stone

-

Lively is an odd word for something called Dead Man's Chest, but lively it is. You won't find hotter action, wilder thrills or loopier laughs this summer.

The Hollywood Reporter

-

Depp is the comic gel that holds the whole enterprise together. The performance is a total delight that somehow combines Bugs Bunny, Peter Pan and Charlie Chaplin.

Empire

-

Too long, and too wrapped up in its various plot contrivances to notice it's veering off course. But Jack just about pulls the wheel back, aided by Verbinski's flair for cartoonish comedy action.

Village Voice

-

Even more of a party-hearty-Marty potlatch of silliness than its predecessor. The franchise having been established, Verbinski, Bruckheimer, and Co. have been liberated to indulge in absurdities, pile on the so-old-they're-new-again clichés, and make jokes at their own expense.

The A.V. Club

-

The first of two sequels shot in immediate succession, Dead Man's Chest bears the unenviable burden of racking the pins for both movies, which leaves it with precious few opportunities to have a little fun of its own.
Pirates of the Caribbean Dead Man's Chest (2006)
Captain Jack Sparrow works his way out of a blood debt with the ghostly Davey Jones, he also attempts to avoid eternal damnation.