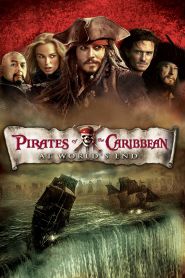 General Information
Glossary: P
Released Year: 2007
Runtime: 169 minutes
Genre: Action, Adventure, Fantasy
Directors: Gore Verbinski
Casts: Mackenzie Crook, Johnny Depp, Martin Klebba, David Schofield, David Bailie, David Meunier, Orlando Bloom, Ho-Kwan Tse, Geoffrey Rush, Takayo Fischer, Jonathan Pryce, Bill Nighy, Tom Hollander, Naomie Harris, Kevin McNally, Reggie Lee, Peter Donald Badalamenti II, Stellan Skarsgård, Keira Knightley, Chow Yun-Fat, Angus Barnett, Jack Davenport, Lee Arenberg, Christopher S. Capp, Giles New, Greg Ellis, Lauren Maher, Vanessa Branch, Andy Beckwith, Keith Richards, Keith Richards, Dominic Scott Kay, Hakeem Kae-Kazim, Ghassan Massoud
IMDB: Pirates of the Caribbean At World's End (2007)
Sponsored Links
Ratings
User Rating:
IMDB Rating:
7.1
Reviews
Chicago Tribune

-

The most visually spectacular, action-packed and surreal of the adventures of Capt. Jack Sparrow (Johnny Depp).

ReelViews

-

The last 60 minutes offer adventure as rousing as anything provided in either of the previous installments. Unfortunately, that doesn't account for the other 108 minutes of this gorged, self-indulgent, and uneven production.

New York Daily News

-

A sumptuous feast for the eyes and an occasionally exhilarating stimulant to the heart. But beware my hearty: It will tie your rum-soaked brain in knots.

Boston Globe

-

You can bet your parrot "Pirates" will be back, even if "At World's End" hasn't the foggiest idea when to quit.

Empire

-

The plot's a trippy, twisty mess, and it's far too long, but it looks fantastic and makes some bold choices in its execution. And once again Jack's back to save the day.
Pirates of the Caribbean At World's End (2007)
Captain Barbossa, long believed to be dead, has come back to life and is headed to the edge of the Earth with Will Turner and Elizabeth Swann. But nothing is quite as it seems.