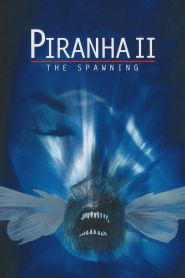 General Information
Glossary: P
Released Year: 1981
Runtime: 84 minutes
Genre: Drama, Horror, Romance, Sci-Fi, Thriller
Directors: James Cameron
Casts: Lance Henriksen, Carole Davis, Ricky Paull Goldin, Tracey Berg, Tricia O'Neil, Captain Kidd Brewer Jr., Steve Marachuk, Ted Richert, Leslie Graves, Connie Lynn Hadden, Arnie Ross, Albert Sanders, Lee Krug, Sally Ricca, Ancile Gloudon, Dorothy Cunningham
IMDB: Piranha Part Two: The Spawning (1981)
Sponsored Links
Ratings
User Rating:
IMDB Rating:
3.6
Reviews
TV Guide Magazine

-

The special effects are awful (the piranhas are obviously hand puppets) and the script worse.

Miami Herald

-

Sound and image are consistently bad, and Piranha II is the first film in my experience to give screen credit (in opening and closing titles) to a man in charge of "special effects and prosthetics." It can't be an easy way to make a living.

Empire

-

It plays a lot like a Porky's holiday comedy for the first half, and then the seagoing killer fish learn to fly and big rubber toothy things terrorise the survivors.

Time Out London

-

A copy rather than a sequel, this has none of the intelligence, wit or tempo that graced the first swarm of hungry fish.

Variety

-

This is a routine monster film, unrelated to Joe Dante's 1978 Piranha. Idiotic premise has US government genetic engineering experiments creating a deadly form of grunions (hinted at being used in the Vietnam war).
Piranha Part Two: The Spawning (1981)
A scuba diving instructor, her biochemist boyfriend, and her police chief ex-husband try to link a series of bizarre deaths to a mutant strain of piranha fish whose lair is a sunken freighter ship off a Caribbean island resort.