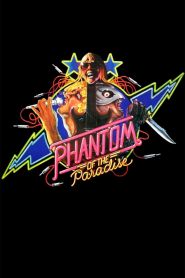 General Information
Glossary: P
Released Year: 1974
Runtime: 92 minutes
Genre: Comedy, Drama, Fantasy, Horror, Music, Musical, Romance
Directors: Brian De Palma
Writers: Brian De Palma
Casts: Jessica Harper, Jim Bohan, Gerrit Graham, Archie Hahn, William Finley, Paul Williams, Cheryl Smith, George Memmoli, Peter Elbling, Janus Blythe, Henry Calvert, Ken Carpenter, Gene Gross, Janit Baldwin, Jeffrey Comanor, Jennifer Ashley, Robin Mattson, Patrice Rohmer, Ruthy Ross, Colin Cameron, David Garland, Gary Mallaber, Art Munson, Mary Margaret Amato, Rand Bridges, Herb Pacheco, Katherine Mastellos, April Troy, Walter Foster, Peter Harrell, Troy Haskins, Sam Forney, Keith Allison, Scott Edmund Lane
IMDB: Phantom of the Paradise (1974)
Sponsored Links
Ratings
User Rating:
IMDB Rating:
7.4
Reviews
Variety

-

A very good horror comedy-drama about a disfigured musician haunting a rock palace. Brian De Palma's direction and script makes for one of the very rare backstage rock story pix, catching the garishness of the glitter scene in its own time.

The New Yorker

-

The film is a one-of-a-kind entertainment, with a kinetic, breakneck wit.

Slant Magazine

-

This is De Palma pouring the new wine of his formal inventiveness and anti-authoritarian irreverence into the old bottles of archetypal myths, and it remains a supremely entertaining anomaly within his filmography, yet entirely emblematic of his filmmaking sensibilities.

The A.V. Club

-

A smorgasbord of camp, Grand Guignol, and bird imagery that thumbed its metal beak at commercial considerations.

TV Guide Magazine

-

A better rock'n'roll parody than The Rocky Horror Picture Show, and one of director Brian De Palma's more original efforts, Phantom of the Paradise combines elements of The Phantom of the Opera and the Faust legend into a fairly entertaining, but only sporadically successful, horror-musical comedy.
Phantom of the Paradise (1974)
Rock Opera version of Phantom of the Opera with elements of Faust. Record producer Swan steals both the music and the girl, Phoenix, from composer Leach. Disfigured Leach plans revenge on Swan and his rock palace, The Paradise, and becomes The Phantom. Leach signs contract with Swan to complete rock opera based on the life of Faust for Phoenix. Double crossed by Swan who hires heavy metal singer Beef, Leach exacts his vengeance.