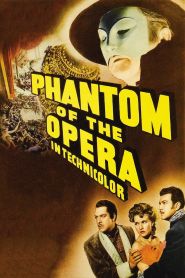 General Information
Glossary: P
Released Year: 1943
Runtime: 92 minutes
Genre: Drama, Horror, Music, Romance
Directors: Arthur Lubin
Casts: Hume Cronyn, Fritz Feld, Claude Rains, Frank Puglia, Belle Mitchell, Edward Biby, Barbara Everest, Stanley Blystone, Fritz Leiber, Beatrice Roberts, Miles Mander, J. Edward Bromberg, Nelson Eddy, Susanna Foster, Edgar Barrier, Leo Carrillo, Jane Farrar, Steven Geray, Nicki Andre, Gladys Blake, Elvira Curci, Kate Drain Lawson, Rosina Galli, James Mitchell, Walter O. Stahl, Paul Marion
IMDB: Phantom of the Opera (1943)
Sponsored Links
Ratings
User Rating:
IMDB Rating:
6.5
Reviews
Los Angeles Times

-

Arthur Lubin's elegant 1942 color version of the Gaston Leroux chiller remains one of the best, with a chilling yet poignant Claude Rains prowling a Paris Opera house, wreaking hideous revenge. [20 Oct 1996, p.4]

Boston Globe

-

The Phantom of the Opera was never a brilliant movie, but it remains great, ghoulish fun, with Chaney tiptoeing the line between sympathy and shudders.

The New York Times

-

To be sure, the production is elegant. Settings and costumes are superfine and, photographed in technicolor, they all mawe a lavish display. But that richness of décor and music is precisely what gets in the way of the tale.

TV Guide Magazine

-

Universal Studios' elaborate and expensive remake of their classic 1925 silent horror film The Phantom of the Opera boasts fabulous sets, gorgeous costumes, and stunning Technicolor photography--but fails in the horror department, because of an excess of music and low comedy.

Variety

-

Phantom of the Opera is far more of a musical than a chiller, though this element is not to be altogether discounted, and holds novelty appeal.
Phantom of the Opera (1943)
Pit violinist Claudin hopelessly loves rising operatic soprano Christine Dubois (as do baritone Anatole and police inspector Raoul) and secretly aids her career. But Claudin loses both his touch and his job, murders a rascally music publisher in a fit of madness, and has his face etched with acid. Soon, mysterious crimes plague the Paris Opera House, blamed on a legendary "phantom".