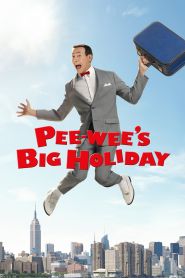 General Information
Glossary: P
Released Year: 2016
Runtime: 90 minutes
Genre: Adventure, Comedy, Family
Directors: John Lee
Writers: Paul Reubens, Paul Rust
Casts: Christopher Heyerdahl, Richard Riehle, Paul Reubens, Paul Rust, Frank Collison, Alia Shawkat, Nicole Sullivan, Lynne Marie Stewart, Lindsay Hollister, Leo Fitzpatrick, Hal Landon Jr., Joe Manganiello, Diane Salinger, David Arquette, Brad William Henke, Sonya Eddy, Tara Buck, Stephanie Beatriz, Janina Gavankar, Darryl Stephens, Robert R. Shafer, Erick Chavarria, John Paragon, Maya Nalli, Dionne Gipson, Lily Mae Harrington, Jessica Pohly, Katherine Vanderlinden, Anthony Alabi, Monica Horan, Meredith O'Leary, K.T. Wiegman, Julie Ouellette, Alexandra Ella, Mary Karcz, Michelle Meredith, Mackenzie Marsh, Robert Broski
IMDB: Pee-wee's Big Holiday (2016)
Sponsored Links
Ratings
User Rating:
IMDB Rating:
6.2
Reviews
Village Voice

-

Manically imaginative and very funny.

The A.V. Club

-

If there's anything tying together the detours and roadblocks that comprise Big Holiday, it's the film's big, bold, screaming celebration of human difference.

The New York Times

-

Like the Muppets and the Simpsons, Pee-wee Herman seems not to age. But in his new Netflix movie, Pee-wee's Big Holiday, he does take things down a notch; he's less frenetic and more reactive.

The Hollywood Reporter

-

Big Holiday's episodic road-trip script is a good fit for the film's sketch-based humor.

Entertainment Weekly

-

A lot of us have really missed Pee-wee, and seeing him go through his fun-house morning regimen at the outset of the film is a giddy treat. It's like catching up with an old friend. But nostalgia gets you only so far.
Pee-wee's Big Holiday (2016)
A fateful meeting with a mysterious stranger inspires Pee-wee Herman to take his first-ever holiday.