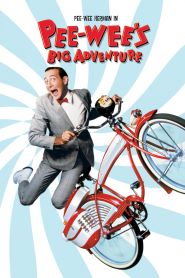 General Information
Glossary: P
Released Year: 1985
Runtime: 91 minutes
Genre: Adventure, Comedy
Directors: Tim Burton
Writers: Paul Reubens, Phil Hartman, Michael Varhol
Casts: Paul Reubens, E.G. Daily, James Brolin, Starletta DuPois, Bill Cable, Peter Looney, Morgan Fairchild, Diane Salinger, Ralph Seymour, Mark Holton, Jan Hooks, Simmy Bow, Milton Berle, Judd Omen, Cassandra Peterson, Dee Snider, Monte Landis, Lou Cutell, Daryl Keith Roach, Irving Hellman, Bill Cable, Alice Nunn
IMDB: Pee-wee's Big Adventure (1985)
Sponsored Links
Ratings
User Rating:
IMDB Rating:
7.0
Reviews
Salon

-

Everything about Pee-wee's Big Adventure, from its toy-box colors to its superb, hyperanimated Danny Elfman score to the butch-waxed hairdo and wooden-puppet walk of its star and mastermind, Pee-wee Herman, is pure pleasure.

TV Guide Magazine

-

Inspired lunacy, Pee-wee's big adventure is one of the most inventive films in recent memory. This clever and wholly original work incorporates a wide variety of cinematic tools with a fresh and unique sense of style.

Empire

-

Burton's first feature revels in the weird, the unpredictable, the infantile and the absurd. A dazzling debut.

Boston Globe

-

Pee- wee's Big Adventure is a shrewdly observed, deftly executed looney tune. [9 Aug 1985, p.42]

Chicago Sun-Times

-

Pee-wee's Big Adventure goes up and down the hills of Pee-wee shtick, without much concern for things like cohesiveness and consistency. What makes it wear so well is the balance achieved between Pee-wee's nitwit nervousness and his pathetic optimism. [12 Aug 1985, p.35]
Pee-wee's Big Adventure (1985)
The eccentric and childish Pee-wee Herman embarks on a big adventure when his beloved bicycle is stolen. Armed with information from a fortune-teller and a relentless obsession with his prized possession, Pee-wee encounters a host of odd characters and bizarre situations as he treks across the country to recover his bike.