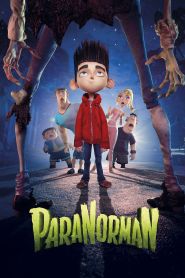 General Information
Glossary: P
Released Year: 2012
Runtime: 90 minutes
Genre: Adventure, Animation, Comedy, Family, Fantasy, Horror
Directors: Sam Fell, Chris Butler
Casts: Anna Kendrick, Casey Affleck, Jeff Garlin, Leslie Mann, Jodelle Ferland, Ariel Winter, Christopher Mintz-Plasse, Ashley Lambert, Denise Faye, John Goodman, Alex Borstein, Tucker Albrizzi, Kodi Smit-McPhee, Bernard Hill, Scott Menville, Cam Clarke, Lara Cody, Elaine Stritch, Tempestt Bledsoe, Jeremy Shada, Hannah Noyes, Alicia Lagano, Jacob Bertrand
IMDB: ParaNorman (2012) - IMDB
Sponsored Links
Ratings
User Rating:
IMDB Rating:
7.0
Reviews
The Playlist

-

ParaNorman is a micro-sized masterpiece that wears its heart (and its half-eaten brains) on its sleeve.

Variety

-

Few movies so taken with death have felt so rudely alive as ParaNorman, the latest handcrafted marvel from the stop-motion artists at Laika ("Coraline").

Time Out

-

Sensitive parents shouldn't fret; this is the kind of grim fairy tale, equal parts midnight-movie macabre and family-round-the-hearth compassionate, that scars in all the right ways.

Arizona Republic

-

As creepy as it is fun, and it's plenty of both, ParaNorman will delight fans of old-time horror movies.

Entertainment Weekly

-

The story may be thin, but the project, a feat of stop-motion animation, is made with generous care by the same impressive LAIKA studio artists who conjured up the gorgeous "Coraline."
ParaNorman (2012)
In the town of Blithe Hollow, Norman Babcock is a boy who can speak to the dead, but no one besides his eccentric new friend, Neil, believes his ability is real. One day, Norman's estranged eccentric uncle tells him of an important annual ritual he must take up to protect the town from an curse cast by a witch it condemned centuries ago. Eventually, Norman decides to cooperate, but things don't go according to plan. Now, a magic storm of the witch threatens Blithe Hollow as the accursed dead rise. Together with unexpected new companions, Norman struggles to save his town, only to discover the horrific truth of the curse. With that insight, Norman must resolve the crisis for good as only he can.