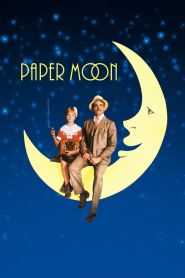 General Information
Glossary: P
Released Year: 1973
Runtime: 102 minutes
Genre: Comedy, Crime, Drama
Directors: Peter Bogdanovich
Casts: Noble Willingham, Randy Quaid, Hugh Gillin, Ryan O'Neal, James N. Harrell, Burton Gilliam, Madeline Kahn, John Hillerman, Tatum O'Neal, P.J. Johnson, Jessie Lee Fulton, Desmond Dhooge, Art Ellison, Lila Waters, Bob Young, Jack Saunders, Jody Wilbur, Liz Ross, Yvonne Harrison, Ed Reed, Dorothy Price, Eleanor Bogart, Dorothy Forster, Lana Daniel, Herschel Morris, Dejah Moore, Ralph Coder, Harriet Ketchum, Kenneth Hughes, George Lillie, Floyd Mahaney, Gilbert Milton, Tandy Arnold, Dennis Beden, Vernon Schwanke, Rose-Mary Rumbley
IMDB: Paper Moon (1973)
Sponsored Links
Ratings
User Rating:
IMDB Rating:
8.1
Reviews
Chicago Sun-Times

-

Tatum O'Neal creates a character out of thin air, makes us watch her every moment and literally makes the movie work.

The A.V. Club

-

Snappy patter reigns again, but by letting the story develop in open spaces rather than through tight edits, Bogdanovich fosters an atmosphere of freedom and promise.

Chicago Reader

-

Ryan O'Neal is a con man and Tatum O'Neal is the foundling who may or may not be his daughter. Though their relationship is conventionally drawn, it has a heart that Bogdanovich hasn't been able to recapture.

Time Out

-

Modern cynicism and efficient acting hold the potential mushiness at bay, and the pair's picaresque odyssey through the Kansas dustbowl, during which they vie for control over their increasingly bizarre partnership, is admirably served by Laszlo Kovacs' marvellous monochrome camerawork.

TV Guide Magazine

-

Bogdanovich's warmest film, featuring charming performances from real-life father and daughter Ryan and Tatum O'Neal.
Paper Moon (1973)
During the Great Depression, a con man finds himself saddled with a young girl who may or may not be his daughter, and the two forge an unlikely partnership.