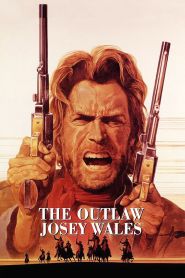 General Information
Glossary: T
Released Year: 1976
Runtime: 135 minutes
Genre: Western
Directors: Clint Eastwood
Casts: Clint Eastwood, Bill McKinney, John Vernon, Doug McGrath, John Russell, Will Sampson, Matt Clark, Woodrow Parfrey, Sam Bottoms, Sheb Wooley, Paula Trueman, John Quade, Sondra Locke, Royal Dano, Chief Dan George, Geraldine Keams, Joyce Jameson, John Verros, Len Lesser, Charles Tyner, John Mitchum, Madeleine Taylor Holmes
IMDB: The Outlaw Josey Wales (1976) - IMDB
Sponsored Links
Ratings
User Rating:
IMDB Rating:
7.9
Reviews
Empire

-

A truly great Western from Clint that is bleakly atmospheric and charming in turns.

Time Out London

-

After a period of directorial uncertainty, the film demonstrated Eastwood's ability to recreate his first starring role, as the mythic Man with No Name of the Italian Westerns, and to subtly undercut it through comedy and mockery.

TV Guide Magazine

-

A cautiously optimistic epic, deeply rooted in American history. Bolstered by Surtees's magnificent cinematography, Fielding's fine score and an excellent supporting cast highlighted by the scene-stealing dry wit of Chief Dan George, Josey Wales affirms life and community with bracing conviction.

Chicago Sun-Times

-

Clint Eastwood's The Outlaw Josey Wales is a strange and daring Western that brings together two of the genre's usually incompatible story lines. On the one hand, it's about a loner, a man of action and few words, who turns his back on civilization and lights out for the Indian nations. On the other hand, it's about a group of people heading West who meet along the trail and cast their destinies together. What happens next is supposed to be against the rules in Westerns, as if Jeremiah Johnson were crossed with Stagecoach: Eastwood, the loner, becomes the group's leader and father figure.

Slant Magazine

-

The remnants of war are fractious and far-flung in Clint Eastwood's impressive revisionist western.
The Outlaw Josey Wales (1976)
After avenging his family's brutal murder, Wales is pursued by a pack of soldiers. He prefers to travel alone, but ragtag outcasts are drawn to him - and Wales can't bring himself to leave them unprotected.