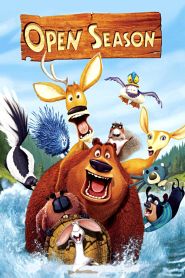 General Information
Glossary: O
Released Year: 2006
Runtime: 83 minutes
Genre: Adventure, Animation, Comedy, Family
Directors: Jill Culton, Roger Allers, Anthony Stacchi
Casts: Gary Sinise, Danny Mann, Jack McGee, Martin Lawrence, Ashton Kutcher, Debra Messing, Billy Connolly, Georgia Engel, Jon Favreau, Jane Krakowski, Gordon Tootoosis, Patrick Warburton, Cody Cameron, Nika Futterman, Michelle Murdocca, Fergal Reilly, Jackie Harris
IMDB: Open Season (2006)
Sponsored Links
Ratings
User Rating:
IMDB Rating:
6.1
Reviews
Chicago Tribune

-

Martin Lawrence and Ashton Kutcher may seem like an odd-sounding comedy team, but in some weird way, they click as voice-actors and cartoon buddies in Open Season.

The Hollywood Reporter

-

Despite that nagging whiff of familiarity, there are enough character quirks and inspired bits of funny business to carry this amiable if slight tale.

Variety

-

A witty, warmly crafted chestnut.

Washington Post

-

With a slick visual style similar to "Monster House", Open Season trots out tropes that recent animated classics have done with more wit and smarts.

Los Angeles Times

-

An amusing if slight excursion into nature with a group of animals who turn the tables on their collective nemeses, the hunters.
Open Season (2006)
Boog, a domesticated 900lb. Grizzly bear finds himself stranded in the woods 3 days before Open Season. Forced to rely on Elliot, a fast-talking mule deer, the two form an unlikely friendship and must quickly rally other forest animals if they are to form a rag-tag army against the hunters.