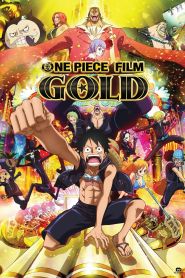 General Information
Glossary: O
Released Year: 2016
Runtime: 120 minutes
Genre: Action, Adventure, Animation, Fantasy
Directors: Hiroaki Miyamoto
Writers: Tsutomu Kuroiwa
Casts: Ikue Otani, Tōru Furuya, Wataru Takagi, Naoto Takenaka, Arata Furuta, Mayumi Tanaka, Takahiro Sakurai, Akemi Okamura, Kappei Yamaguchi, Rena Takeda, Kazuhiro Yamaji, Tomokazu Seki, Kazuya Nakai, Hikari Mitsushima, Masaya Onosaka, Nanao, Nobuyuki Hiyama, Hiroaki Hirata, Yuriko Yamaguchi, Kazuki Yao, Gaku Hamada, Kinya Kitaoji, Fumihiko Tachiki, Satsuki Yukino, Ayaka Miyoshi, Arisa Satô, Nanase Nishino, Kendo Kobayashi
IMDB: One Piece Film: Gold (2016)
Sponsored Links
Ratings
User Rating:
IMDB Rating:
7.4
Reviews
Los Angeles Times

-

Viewers unfamiliar with One Piece may find themselves lost in places, as the filmmakers treat the regular characters and their relationships as givens, with no introductions or explanations. Fans will find the outré settings, bizarre characters, over-the-top fights and slapstick comedy they enjoy.

Village Voice

-

Only Yesterday it ain't, and you probably already know whether One Piece Film: Gold will make you ecstatic or not.

Austin Chronicle

-

Toei Animation has done their usual bang-up job on the 2-D animation, filling nearly the entire running time with skirmishes, melees, and battles royal beyond compare.

The New York Times

-

If you're a boy between, say, 8 and 12 and wired to the hilt on Coca-Cola, the shrill, exhausting "Gold" might be for you. But only if.
One Piece Film: Gold (2016)
The Straw Hat Pirates are taking on Gild Tesoro, one of the richest men in the world.