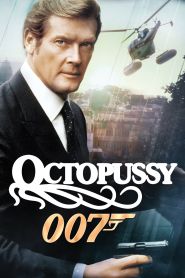 General Information
Glossary: O
Released Year: 1983
Runtime: 131 minutes
Genre: Action, Adventure, Thriller
Directors: John Glen
Casts: Dermot Crowley, Jeremy Bulloch, Bruce Boa, Andy Bradford, Steven Berkoff, Richard LeParmentier, Desmond Llewelyn, Peter Edmund, Roger Moore, Philip Voss, Lois Maxwell, Albert Moses, Walter Gotell, Geoffrey Keen, Eva Rueber-Staier, Joni Flynn, Robert Brown, Mary Stavin, Carole Ashby, Peter Porteous, Maud Adams, Louis Jourdan, Kristina Wayborn, Kabir Bedi, David Meyer, Tony Meyer, Michaela Clavell, Vijay Amritraj, Douglas Wilmer, Paul Hardwick, Suzanne Jerome, Cherry Gillespie, Tina Hudson, William Derrick, Stuart Saunders, Patrick Barr, Gabor Vernon, Hugo Bower, Ken Norris, Tony Arjuna, Gertan Klauber, Brenda Cowling, David Grahame, Brian Coburn, Michael Halphie, Carolyn Seaward, Cheryl Anne, Jani-Z, Julie Martin, Julie Barth, Kathy Davies, Helene Hunt, Gillian De Terville, Safira Afzal, Louise King, Tina Robinson, Alison Worth, Janine Andrews, Lynda Knight, Susanne Dando, Teresa Draddock, Kirsten Harrison, Christine Cullers, Lisa Jackman, Jane Aldridge, Christine Gibson, Tracy Llewellyn, Ruth Flynn, Roberto Germains, Richard Graydon, The Hassani Troupe, Michael Moor, The Flying Cherokees, Carol Richter, Josef Richter, Vera Fossett, Shirley Fossett, Barrie Winship, Ravinder Singh Reyett, Gurdial Sira, Sven Surtees, Ray Charles, Talib Johnny
IMDB: Octopussy (1983)
Sponsored Links
Ratings
User Rating:
IMDB Rating:
6.6
Reviews
The New York Times

-

George MacDonald Fraser, Richard Maibaum and Michael G. Wilson are responsible for the story and screenplay, which was directed by John Glen, who does much better than he did with "For Your Eyes Only." However, the material is markedly better, and the budget seems noticeably larger. Peter Lamont's production design is both extravagant and funny.

Washington Post

-

One of the snazziest, wittiest productions in the history of the serial.

Time Out London

-

This finds Bond on better form than he's been for some time. The action sequences are tighter, the visual gags more inventive, and if the plot is no great shakes, the whole thing is served up with a decent approximation to the old panache.

Variety

-

Film's high points are the spectaccular aerial stuntwork marking both the pre-credits teaser and extremely dangerous-looking climax.

Empire

-

One for the die hards. The saving grace here is a knowing sense of humour so lacking in its predecessor, For Your Eyes Only.
Octopussy (1983)
James Bond is sent to investigate after a fellow "00" agent is found dead with a priceless Fabergé egg. James Bond follows the mystery and uncovers a smuggling scandal and a Russian General who wants to provoke a new World War.