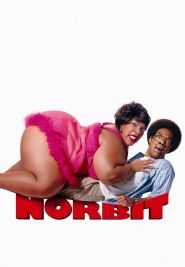 General Information
Glossary: N
Released Year: 2007
Runtime: 101 minutes
Genre: Comedy, Romance
Directors: Brian Robbins
Casts: Eddie Murphy, Rob Huebel, Terry Crews, Marlon Wayans, Thandie Newton, John West, Lester Speight, Clifton Powell, Jeanette Miller, Floyd Levine, Eddie Griffin, Pat Crawford Brown, Alexis Rhee, Cuba Gooding Jr., Katt Williams, Anthony Russell, Michael Colyar
IMDB: Norbit (2007) - IMDB
Sponsored Links
Ratings
User Rating:
IMDB Rating:
4.0
Reviews
Austin Chronicle

-

The fun in Norbit is watching Murphy at work – the guy has a knack for bringing the physicality of his comic characters to life.

The New York Times

-

Not exactly uproarious. But Mr. Murphy, going back at least to his Gumby and Buckwheat days on "Saturday Night Live," has always had the ability to turn broad caricature into something stranger and more inventive.

Washington Post

-

Much of the movie -- which Murphy wrote with a small posse of collaborators -- is taken up with the torturously dull, not to mention unbelievable, romance between Norbit and Kate (a disappointingly lackluster Newton) and the tedious agenda of Cuba Gooding Jr. as a schemer-manipulator.

Entertainment Weekly

-

Murphy speaks in a breathy lisp, as if his mouth had been partially buttoned shut, and he doesn't give himself the nerd's traditional redeeming feature of a geeky, slide-rule intellect. Norbit, all frozen gawk, is just a very dim bulb.

New York Daily News

-

It's hard to know who is the intended audience for this misguided mess.
Norbit (2007)
A mild-mannered guy who is engaged to a monstrous woman meets the woman of his dreams, and schemes to find a way to be with her.