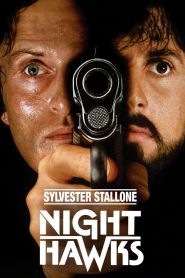 General Information
Glossary: N
Released Year: 1981
Runtime: 99 minutes
Genre: Action, Crime, Thriller
Directors: Bruce Malmuth
Writers: David Shaber
Casts: Rutger Hauer, Sylvester Stallone, Billy Dee Williams, Joe Spinell, Sue Vanner, Gerard Murphy, Persis Khambatta, Lindsay Wagner, Nigel Davenport, Hilary Thompson, Walter Mathews, E. Brian Dean, Jamie Gillis
IMDB: Nighthawks (1981) - IMDB
Sponsored Links
Ratings
User Rating:
IMDB Rating:
6.4
Reviews
The New York Times

-

We've seen movies like Nighthawks before, but we haven't seen one in a while. That may be why this police film, with an international cast and a plot about international terrorism, has so much punch. All of it is standard stuff, and yet Nighthawks has been assembled with enough pep to make it feel fresh. It is particularly helped by the performances of Rutger Hauer, a Dutch actor who makes a startling impression as a cold-blooded fiend, and Sylvester Stallone, from whom less is definitely more.

Chicago Tribune

-

Sylvester Stallone and Billy Dee Williams star in a thriller about New York detectives trying to capture an international terrorist. The story is full of holes but compelling nevertheless because we do grow to hate the terrorist and want him stopped. [19 June 1981, p.8]

TV Guide Magazine

-

This very effective thriller features a chilling performance by Hauer as the emotionless killing machine. Stallone and Williams are also credible, and the film makes good use of its New York locations.

Variety

-

Nighthawks is an exciting cops and killers yarn with Sylvester Stallone to root for and cold-blooded Rutger Hauer to hate.

Time Out London

-

The plot of Nighthawks makes no sense. Its thrills are strictly visual. Stallone (the cop) gives a restrained performance for once, and Rutger Hauer (the terrorist) shows why he was to make it big in Hollywood.
Nighthawks (1981)
An international terrorist has New York in a grip of panic and it's up to Det. Sgt. Deke DaSilva to take him down.