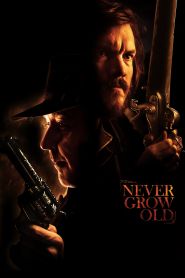 General Information
Glossary: N
Released Year: 2019
Runtime: 100 minutes
Genre: Action, Drama, Thriller, Western
Directors: Ivan Kavanagh
Writers: Ivan Kavanagh
Casts: Emile Hirsch, Danny Webb, John Cusack, Antonia Campbell-Hughes, Claire Johnston, Steve Karier, Éric Gigout, Tim Ahern, Sam Louwyck, Paul Reid, Paul Ronan, Déborah François, Anne Coesens, Manon Capelle, Blake Berris, Leila Schaus, Molly McCann, Quinn Topper Marcus, Camille Pistone, Peter Newington, Liz McMullen, Sean Gormley, Nicolas de Lavergne, Dick O'Hary, Julie Kieffer, Nickel Bösenberg, Jean-François Wolff
IMDB: Never Grow Old (2019)
Sponsored Links
Ratings
User Rating:
IMDB Rating:
5.7
Reviews
Observer

-

It's too monstrous and mean-spirited to please everyone unconditionally, but I found it challenging and honest — and hair-raising enough to work as a modern morality tale in cowboy boots.

Chicago Sun-Times

-

A well-made, rough-edged and solid frontier fable with a distinctive look and fine performances all around.

Los Angeles Times

-

Never Grow Old isn't a top-shelf western, but it's thoughtfully made, with something to say about how even in a country that encourages rugged individualism, community matters.

The Hollywood Reporter

-

Wearing the proverbial black hat and speaking his menacing lines in a husky, near-whisper, Cusack thoroughly galvanizes the proceedings.

Movie Nation

-

Kavanagh's second coup was in giving this too-familiar tale just the right star power, with the criminally under-used Hirsch shining as our anti-hero and Cusack, settling into the playing-the-heavy part of his career with as much wit as he can muster.
Never Grow Old (2019)
An Irish undertaker profits when outlaws take over a peaceful town, but his own family come under threat as the death toll increases dramatically.