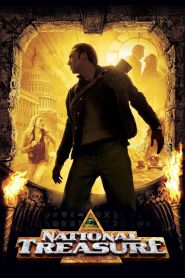 General Information
Glossary: N
Released Year: 2004
Runtime: 131 minutes
Genre: Action, Adventure, Mystery, Thriller
Directors: Jon Turteltaub
Casts: Nicolas Cage, Christopher Plummer, Diane Kruger, Harvey Keitel, Don McManus, Jon Voight, Elizabeth Greenberg, Sean Bean, Jason Earles, Justin Bartha, Michael Russo, Jody Halse, Oleg Taktarov, Sharon Wilkins, Armando Riesco, Annie Parisse, Ron Canada, Mark Pellegrino, David Dayan Fisher, Stewart Finlay-McLennan, Stephen A. Pope, Erik King, Hunter Gomez, Deborah Yates, Arabella Field, Alexandra Balahoutis, Dior Raye, Yves Michel-Beneche, Terrence Currier, Rod McLachlan, Liam Noble, Joshua Bitton, Fern D. Baguidy Jr., Thomas Q. Morris, Antony Alda, John Travis, Heidi Albertsen, Adriana Alveario
IMDB: National Treasure (2004)
Sponsored Links
Ratings
User Rating:
IMDB Rating:
6.9
Reviews
Chicago Tribune

-

Overall the film is alluringly over-the-top without being overcooked.

Charlotte Observer

-

The film whirls by in a satisfying torrent of chases, escapes and discoveries.

Miami Herald

-

It's a tomb-raiding adventure movie several notches below Indiana Jones status.

Philadelphia Inquirer

-

An undeniable pleasure of National Treasure was watching a movie shot locally that wasn't haunted by a virus or by dead people.

Christian Science Monitor

-

Too bad the clever bits are swamped by no-brainer gunfights, rescues, and chases galore.
National Treasure (2004)
Modern treasure hunters, led by archaeologist Ben Gates, search for a chest of riches rumored to have been stashed away by George Washington, Thomas Jefferson and Benjamin Franklin during the Revolutionary War. The chest's whereabouts may lie in secret clues embedded in the Constitution and the Declaration of Independence, and Gates is in a race to find the gold before his enemies do.