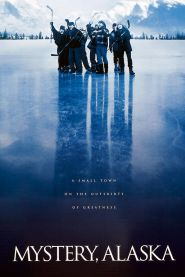 General Information
Glossary: M
Released Year: 1999
Runtime: 119 minutes
Genre: Comedy, Drama, Sport
Directors: Jay Roach
Writers: David E. Kelley, Sean O'Byrne
Casts: Hank Azaria, Mike Myers, Kevin Durand, Russell Crowe, Jason Gray-Stanford, Brent Stait, Beth Littleford, Ron Eldard, Adam Beach, Colm Meaney, Michael Buie, Mary McCormack, Michael McKean, Lolita Davidovich, Judith Ivey, Burt Reynolds, Maury Chaykin, Scott Grimes, Betty Linde, Ryan Northcott, Cameron Bancroft, Rachel Wilson, Megyn Price, Stephen Hair, Terry David Mulligan, Matt Clarke, Karen Gartner
IMDB: Mystery, Alaska (1999)
Sponsored Links
Ratings
User Rating:
IMDB Rating:
6.7
Reviews
New York Post

-

Does offer solid laughs, engaging performances and a captivating setting.

Chicago Sun-Times

-

Could metamorphose into an entertaining sitcom.

Seattle Post-Intelligencer

-

Disney seems intent upon overdosing audiences with the little guy proving himself against a seemingly superior force.

Entertainment Weekly

-

The enterprise might also be called ''Picket Fences on Ice."

New York Daily News

-

Some terrific characters and some of the year's punchiest comic dialogue.
Mystery, Alaska (1999)
In Mystery, Alaska, life revolves around the legendary Saturday hockey game at the local pond. But everything changes when the hometown team unexpectedly gets booked in an exhibition match against the New York Rangers. When quirky small-towners, slick promoters and millionaire athletes come together.