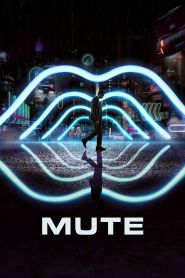 General Information
Glossary: M
Released Year: 2018
Runtime: 126 minutes
Genre: Mystery, Sci-Fi, Thriller
Directors: Duncan Jones
Writers: Michael Robert Johnson, Damon Peoples
Casts: Sam Rockwell, Paul Rudd, Andrzej Blumenfeld, Dominic Monaghan, Justin Theroux, Alexander Skarsgård, Alexander Yassin, Noel Clarke, Robert Sheehan, Robert Kazinsky, Daniel Fathers, Kirsten Block, Anja Karmanski, Florence Kasumba, Seyneb Saleh, Gilbert Owuor, Jannis Niewöhner, Nikki Lamborn, Ulf Herman, Eugen Bauder, Jarah Maria Anders, Barbara Ewing, Enya Maria Tames, Grégoire Gros, Robert Nickisch, Ekaterina Chapandze, Livia Matthes
IMDB: Mute (2018) - IMDB
Sponsored Links
Ratings
User Rating:
IMDB Rating:
5.4
Reviews
IndieWire

-

Mute is ludicrous, but within the confines of its referential logic, also pretty cool.

IGN

-

Mute tries to tell a transformative sci-fi story but struggles to find its footing with a less than stellar hero.

The Film Stage

-

Mute is one of those strange oddities in which every single aspect of the plot feels purposefully cultivated for some grand thematic or existential purpose, yet none of it coheres into something that feels particularly meaningful or revelatory.

The Hollywood Reporter

-

The handsomely downbeat atmospherics overwhelm its themes of love, parenthood, crime and punishment. The narrative doesn't quite coalesce, and except for a few late-in-the-proceedings moments, it doesn't deliver the grim, indelible shivers of the best noir.

Los Angeles Times

-

The references, conscious and not, serve as constant reminders to the audience of other, better, movies, rendering Mute more atonal hodgepodge than carefully orchestrated pastiche.
Mute (2018)
A mute man with a violent past is forced to take on the teeming underworld of a near-future Berlin as he searches for his missing girlfriend.