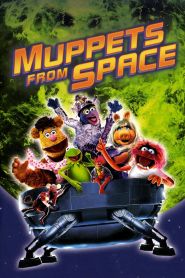 General Information
Glossary: M
Released Year: 1999
Runtime: 87 minutes
Genre: Adventure, Comedy, Family, Fantasy, Music, Sci-Fi
Directors: Tim Hill
Casts: Katie Holmes, Ray Liotta, Kathy Griffin, Jeffrey Tambor, Rob Schneider, Josh Charles, Andie MacDowell, F. Murray Abraham, Frank Oz, Joshua Jackson, Steve Whitmire, Dave Goelz, Bill Barretta, Pat Hingle, David Arquette, Hulk Hogan, Jerry Nelson, Gary Owens
IMDB: Muppets from Space (1999)
Sponsored Links
Ratings
User Rating:
IMDB Rating:
6.3
Reviews
Empire

-

The best Muppet movie for some time, adding film references a-plenty, dark, edgy comedy and even a touch of post-modernism to the usual all-singing, all-dancing ridiculousness.

TV Guide Magazine

-

The folks at Jim Henson Pictures have wisely opted not to mess with the late Jim Henson's winning formula; the crowd-pleasing soundtrack features hot '70s funk classics, the Muppets are as cute as ever and there are more than a few flashes of adult humor to keep grown-ups laughing right along with the kiddies.

Variety

-

A modestly clever comedy in which nothing gets seriously out of hand.

Chicago Sun-Times

-

Maybe Muppets from Space is just not very good, and they'll make a comeback. I hope so. Because I just don't seem to care much anymore. Sorry, Miss Piggy. Really sorry.

The A.V. Club

-

The cavalcade of guest spots does give viewers the rare opportunity to see Andie MacDowell getting punched in the stomach by Miss Piggy, as well as the chance to watch Dawson's Creek star Katie Holmes reject the amorous advances of a wise-cracking prawn, but they also undermine Muppets From Space's attempts to transcend its dull, plodding shenanigans.
Muppets from Space (1999)
When Gonzo's breakfast cereal tells him that he's the descendant of aliens from another planet, his attempts at extraterrestrial communication get him kidnapped by a secret government agency, prompting the Muppets to spring into action. It's hard to believe Gonzo's story at first, but Kermit and friends soon find themselves on an epic journey into outer space filled with plenty of intergalactic misadventures.