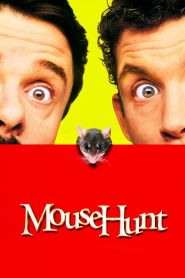 General Information
Glossary: M
Released Year: 1997
Runtime: 98 minutes
Genre: Comedy, Family
Directors: Gore Verbinski
Casts: Nathan Lane, Debra Christofferson, Christopher Walken, Michael Jeter, Vicki Lewis, Ernie Sabella, Ian Abercrombie, Suzanne Krull, Eric Poppick, Maury Chaykin, William Hickey, Lee Evans, Annabelle Gurwitch, Mario Cantone, Cliff Emmich, Eric Christmas, William Frankfather, Camilla Søeberg, Melanie MacQueen, Brianna Shebby, Danielle Shebb, Leslie Upson, Peter Anthony Rocca, Steve Bean
IMDB: Mousehunt (1997)
Sponsored Links
Ratings
User Rating:
IMDB Rating:
6.4
Reviews
Austin Chronicle

-

Absolutely one-hundred-percent ridiculous, this is comedy of a higher order, and more maniacally inspired than almost anything released in years.

The A.V. Club

-

Far better than you'd expect. Despite its intelligence-insulting premise, Mouse Hunt is a well-crafted, surprisingly smart film that benefits tremendously from the winning chemistry between Lane and talented newcomer Evans.

USA Today

-

Wacked-out and warped. [19 December 1997, p. 3D]

The New York Times

-

As the family film least insulting to its audience's intelligence this season, Mouse Hunt has its share of grown-up appeal along with mouse mischief guaranteed to have children giggling.

The Globe and Mail (Toronto)

-

If you're a five-year-old, or the mental equivalent thereof, and love Saturday morning cartoons, the more violent the better, then Mouse Hunt may just be the movie for you.
Mousehunt (1997)
Down-on-their luck brothers, Lars and Ernie Smuntz, aren't happy with the crumbling old mansion they inherit... until they discover the estate is worth millions. Before they can cash in, they have to rid the house of it's single, stubborn occupant: a tiny and tenacious mouse.