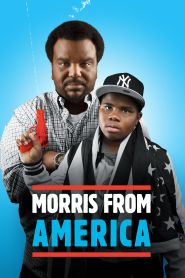 General Information
Glossary: M
Released Year: 2016
Runtime: 89 minutes
Genre: Comedy, Drama, Romance
Directors: Chad Hartigan
Writers: Chad Hartigan
Casts: Eva Löbau, Craig Robinson, Jakub Gierszał, Carla Juri, Markees Christmas, Lina Keller, Levin Henning, Patrick Güldenberg, Leon Badenhop, Marie Löschhorn, Josephine Becker, Roger Ditter, Florian Von Stockum, Nora Borchert, Diana Ionescu, Anna Sodan, Anabel Möbius, Lukas Ritter, Thorsten Wenning, Liv Scharbatke, Josephine Fabian, Manuel Hafner, Hugo Manuel, Kai Michael Müller, Benedikt Crisand
IMDB: Morris from America (2016) - IMDB
Sponsored Links
Ratings
User Rating:
IMDB Rating:
6.2
Reviews
The Film Stage

-

A culturally specific story is being told, but the film's familiar structure helps to add a commonality for any viewer.

IndieWire

-

The climax feels a bit under-realized, but never less than genuine. More than anything else, Morris From America excels at conveying the inherent power of companionship in a largely indifferent world.

New York Magazine (Vulture)

-

This understated, generous film quietly sneaks up on you.

Variety

-

This coming-of-age dramedy explores how the challenges of being young, black and misunderstood can be compounded in a foreign environment, but goes about it in a grounded, character-driven way that never smacks of manipulation or special pleading.

Slant Magazine

-

Chad Hartigan's film is especially perceptive about the effect of external influence on personal development.
Morris from America (2016)
The romantic and coming-of-age misadventures of a 13-year-old American living in Germany.